If there is one negative to being Persian, its the hair. Yes, on my head and lashes and brows its a blessing, but just about everywhere else it's the worst! I started laser hair removal treatments last year and here are 5 things I've learned from the experience.
1.// IT WORKS BEST FOR DARK HAIR 
I'm sure laser technology is changing all the time, but as of last year when I first started my treatments I learned a lot about the laser itself. Laser hair removal works the best for people with lighter skin and darker hair. The reason for this is because the laser is attracted to the pigment, so if you have dark hair and light skin, the laser will target the hair follicle more directly. I'm somewhere in the middle because I have dark hair and dark skin. I have had to be very mindful of the sun, using sunscreen regularly (which is new for me) and trying to avoid getting tan (aka my least favorite part of the experience). If you have light/blonde hair, then I would suggest giving your clinic a call/having a consultation before spending the money!
2.// IT HURTS, BUT THE PAIN IS QUICK
For things like this I have a very high pain tolerance, and I'm not just saying that. But, if I'm being completely honest, it does hurt. To me it feels like someones taking tweezers that have been in a fire and pinching me with them over and over again. I know that kind of sounds like torture, but within a second of the zap the pain goes away. It doesn't linger at all and it doesn't cause any soreness after the treatment. Also, different places have higher sensitivity, for example, your lip hurts more than your underarms, so take that into consideration when you make your decision, too.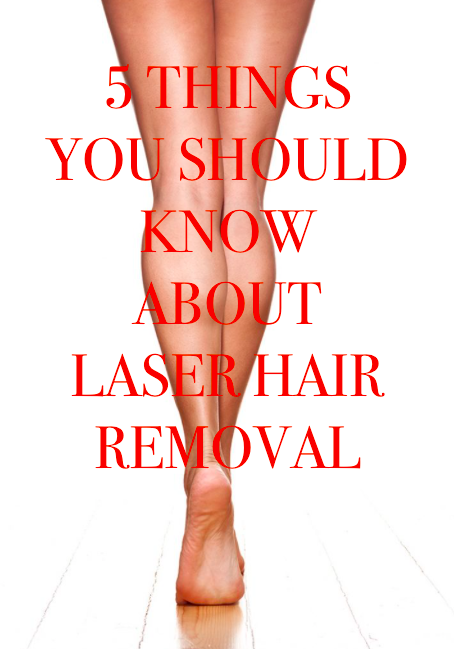 3.// ITS NOT IMPOSSIBLY EXPENSIVE
Yes, it is expensive, but its an investment you can definitely work towards. I found my laser clinic on Groupon and I absolutely love them (I, of course, read lots of reviews and did plenty of research)! Groupon always has laser hair removal deals, and if you find a clinic you like, visit their website or give them a call. They almost always have specials!
4.// ITS A PROCESS
It can take between 6 and 12 laser treatments in one area to completely get rid of the hair. Time in between treatments can be 4 to 8 weeks. You do the math, but its definitely a process. You probably don't want to choose a clinic that is too far or a pain in the butt to get to, because, depending on what area you choose to get laser on, you might be there quite often!
5.// TREATMENTS DON'T TAKE LONG
While the whole laser hair removal process takes a while, the treatments themselves are short and sweet. I was pleasantly surprised by this! For reference, a place like your underarms takes all of 2 minutes for a full treatment. Its quick and (not) painless!
Laser is one of the best decisions I have made! I'm not even done with my treatments and my results are already amazing. If you are someone who is considering laser then I hope you found this post helpful, and don't hesitate to reach out to me with any questions! As always, I hope you guys enjoyed and until next time!
xx,

SaveSave
SaveSave
SaveSave
SaveSave