Ok, this post is pretty overdue, but I definitely wanted to do a little recap of my boyfriend and I's trip to Mexico at the end of May! Hayden and I graduated from CU in May this year and we wanted to take a little post grad trip. When I studied abroad in Italy Hayden came out to visit me and we spent 10 days traveling from Perugia to Rome to the Amalfi Coast (a trip that will always be hard to top), and because of that and our budget we didn't want to do Europe again quite yet. We also thought about going to Vietnam and Thailand with my brother and his girlfriend, but with Hayden's job coming up and our serious lack of organization, that just didn't work out either. Thus we decided to go somewhere tropical and just relax, so we settled on Mexico. It was my first time to Mexico and aside from one minor setback of us both getting pretty brutal food poisoning, we had a lot of fun on the trip! 
To start, we took a shuttle from the airport to the hotel using the shuttle service called USA Transfers. The only reason I mention this is because Playa is a good hour drive from the Cancun airport and Hayden and I read just about a million reviews of transfer services before finally booking one. We wanted to make sure we were getting a good deal and would be safe and with USA Transfers we were not disappointed. Our drivers were extremely professional, the company scheduled the pickup based on when our flight arrived and departed, and we didn't pay until we were dropped off safely at our hotel (you pay by calling their office and giving your credit card info… this was sketchy to me at first but ended up being totally fine and I was charged the correct amount). Hopefully if you are planning a trip to Mexico soon and need help booking a transfer service you find this helpful because I know I would have loved to have seen a blog post about this before we went!
We stayed at a hotel called Gran Porto Resort right in the heart of Playa del Carmen. The location was perfect, only 2 blocks from the main street in Playa, 5th Ave, where Hayden and I spent a lot of time during the trip. The resort was also all inclusive. My only complaint about this place (besides it giving us food poisoning…), was the beach surrounding the resort. The white sand was absolutely beautiful but the water right off the beach had sandbags and was pretty rocky. It wasn't a huge deal because if you walk a very short distance you reach a gorgeous beach with crystal clear water, which Hayden and I did one of the days and had a blast playing in the water and laying on the sand. Besides that, we spent the rest of our sun time by the pool because it was sooo amazing! Another awesome thing about our hotel was that each night there was something going on. The first night we were there was casino night where we got to gamble with fake money and then buy things in an auction with our winnings (we got a t-shirt and bucket of beer), on other nights vendors would come in and sell all their homemade items, and other nights there were shows. When we weren't at the pool napping (talk about dream vacation), we would go walk 5th Ave. Hayden and I love exploring so it was a blast going into all the little shops and meeting the people. 
Now I will post lots of pictures from our trip. I will comment on some of them and if you are interested in our little excursion down to Cozumel, I will post a little blurb about that below! PS, sorry most of these pics are blurry as they are small snippets from videos or are from snapchat!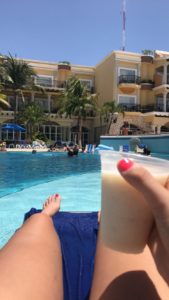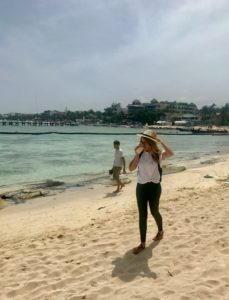 Piña colada appreciation pics.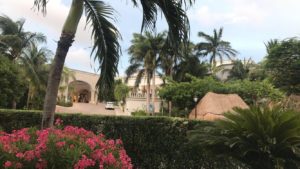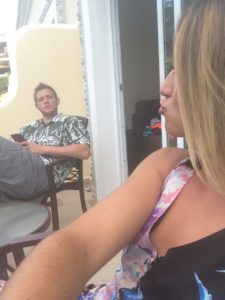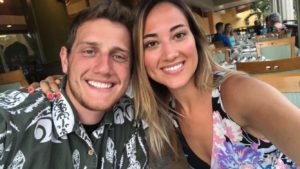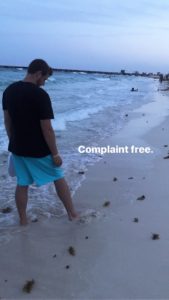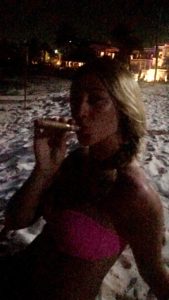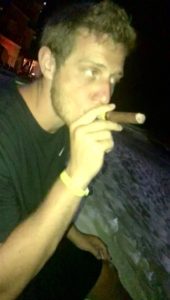 I realize these are super low quality pics, but I had to include them because on this night we bought Cuban cigars and smoked them on the beach while playing games in the sand. One of the best memories of the trip!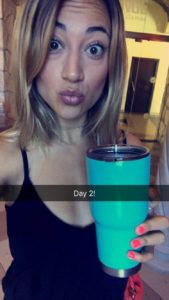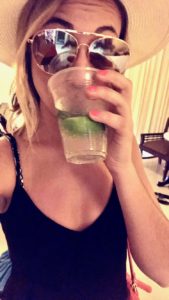 Here is me holding some drinks…. PROTIP: If you have Yeti or Arctic cups, bring them to an all inclusive resort! The bartenders will fill them up for you so you can get less refills and have colder drinks. Or if you are lucky like us and have access to a full bar in your resort, just make your own drinks. Literally. Genius. (shoutout to Hayden's sister, Hannah, for the tip!)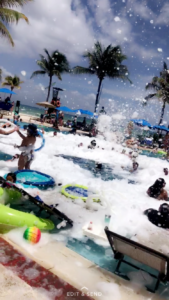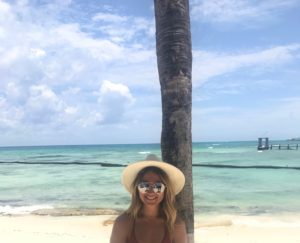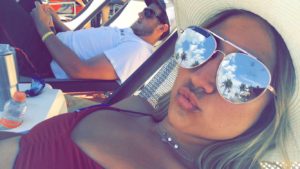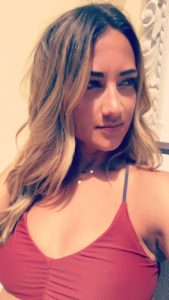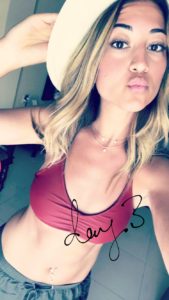 This was actually the day we woke up with food poisoning. I had gotten really sick the night before and woke up feeling eh, but Hayden was not well. While he slept in I did what I always to when I'm bored and thats play with my hair and makeup 🙂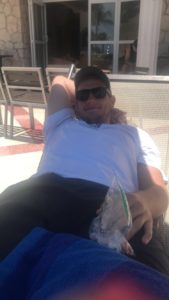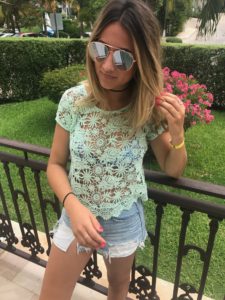 Day 4 spent strolling around 5th Ave!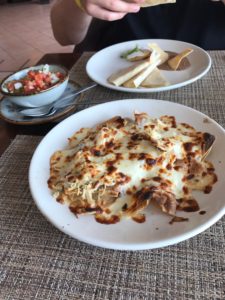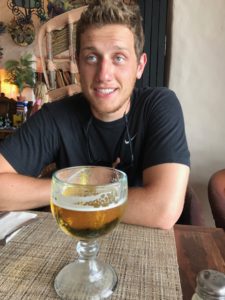 Day 5 spent in Cozumel. Not our healthiest meal but what our stomachs could handle, and we finally felt good enough to drink some (a lot) of ice cold beer!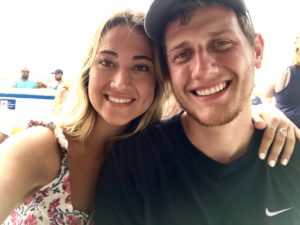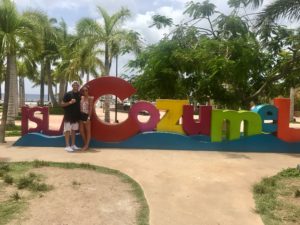 Very fun day in Cozumel. We bought a package through a guy on 5th Ave that included the ferry fair, a scooter rental, and a snorkeling tour of El Cielo. If I got to do it all over again, I would not have purchased a package but instead I would have just planned everything myself. We ended up way over paying and having some stressful moments because of poor planning on his part. If you are interested, I can't remember exact prices but I can guesstimate. The ferry ticket I want to say was $10 round trip (and ferries leave about every 30 minutes but make sure you check the schedule!) The scooter rental was something like 25 dollars, but you'll want to get insurance too which I want to say was $15 (don't be idiots like us and forget your drivers license either, it makes the whole process a lot harder!) And lastly, there are a zillion companies straight off the ferry offering tours of El Cielo (a gorgeous place to snorkel with crystal clear water and tons of starfish). The tour that we took also went to a snorkeling site called Colombia and if you can go there it is a must. There were hundreds of fish swimming all around us, a gigantic coral reef below, and we even saw a sea turtle. It was an amazing experience that I would highly recommended!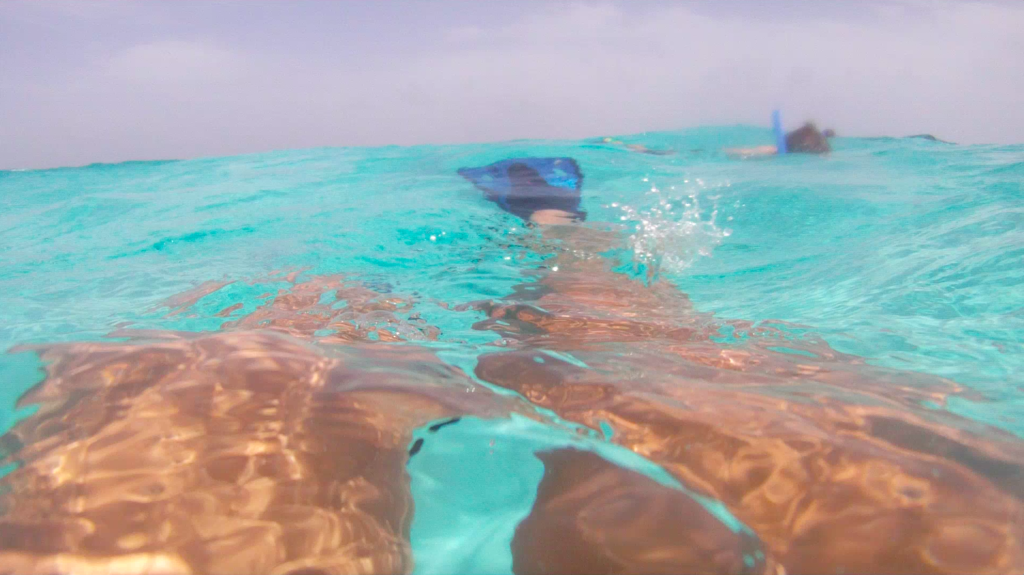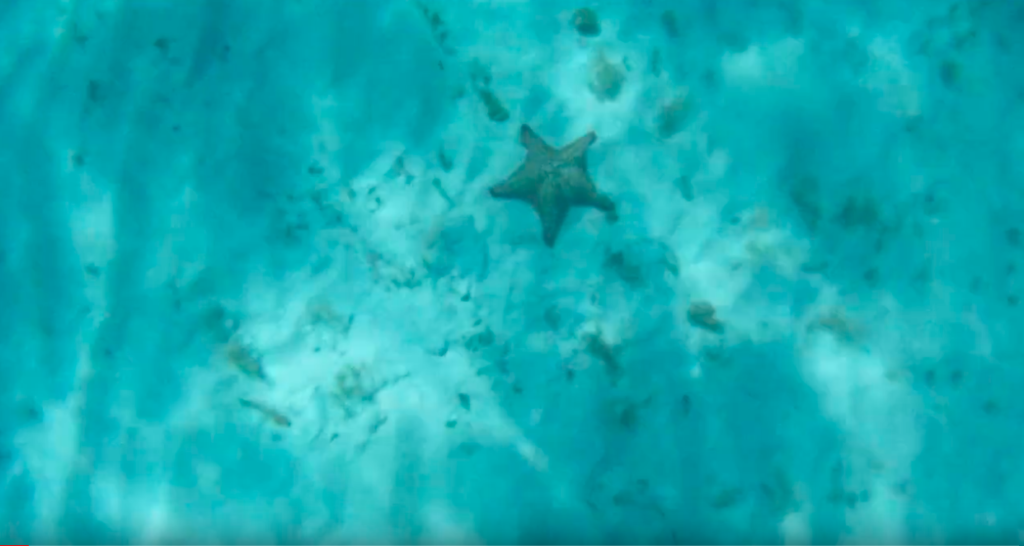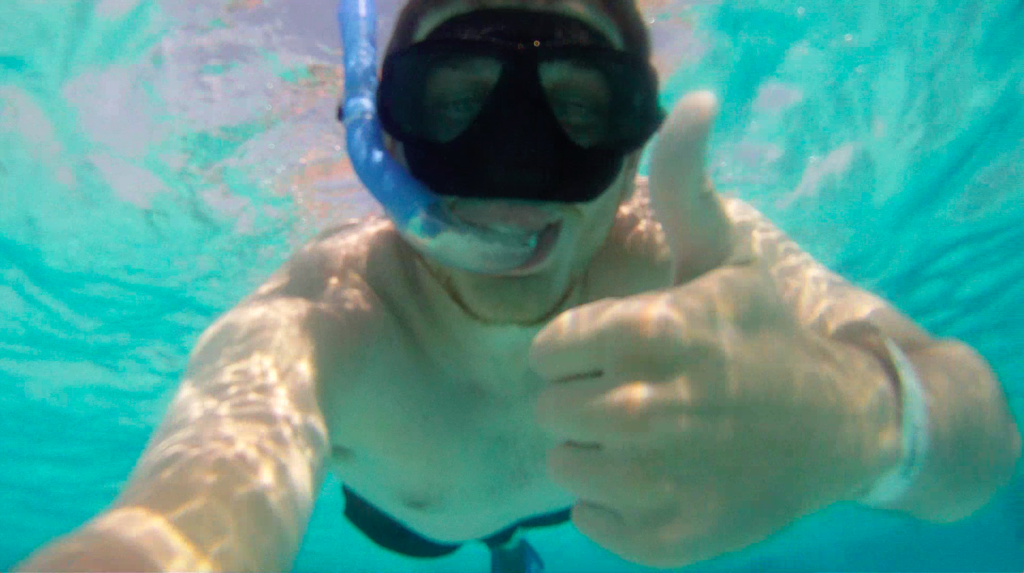 I'll leave you with some extremely low quality pictures of bubs (AKA Hayden) and I just snorkelin' through life together <3. At the end of the day there are some things that I will do differently going to Mexico in the future (like chug a bottle of Pepto Bismal before I even get on the plane) but I still, as always, had a blast traveling with my boo and taking a much needed post grad vacation. Thank you guys for reading, I hope you enjoyed, and I also hope to be getting some more travel posts up from previous trips I've taken as well as ones coming up in the future! See you next time!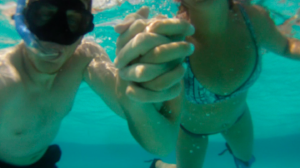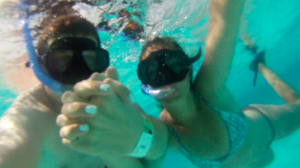 xx,