It's about that time of year to start transitioning everything to fall and I am READY for it. One of my favorite things to do to transition into the season is start switching up my nail color from bright pinks and oranges to more neutral, earthy tones. Here are five of my favorite polishes for the fall!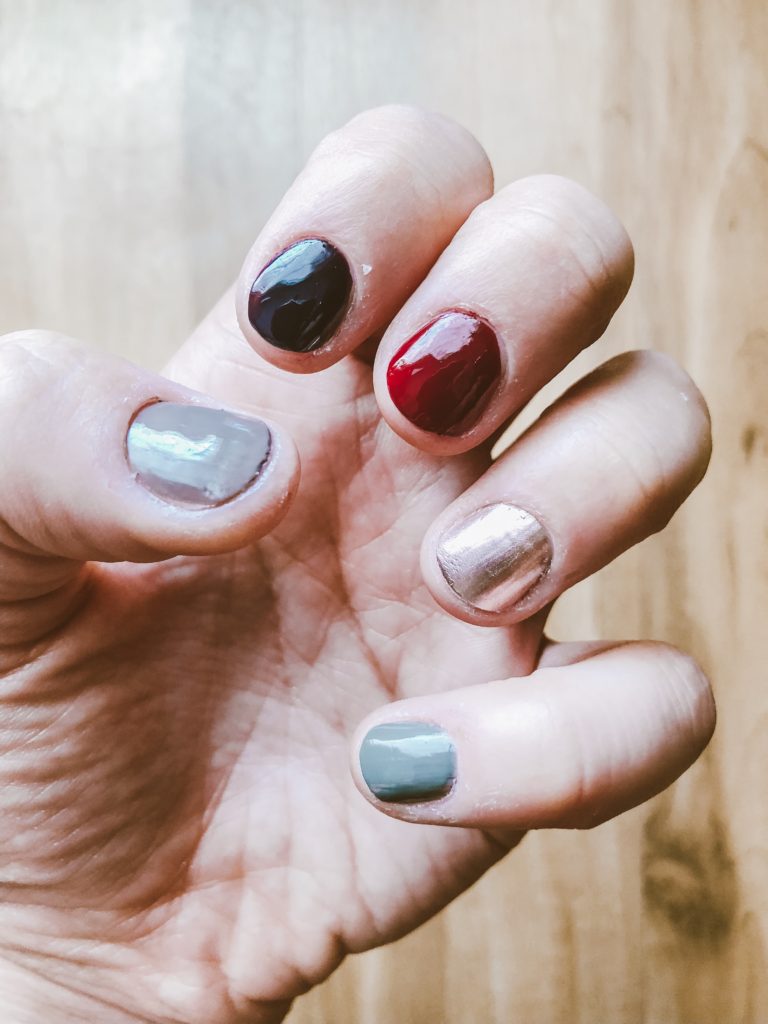 Green: Essie Exposed– this polish is new to my collection and one of my faves! It's a muted, greyish green. It is so pretty on any skin tone and gives you a little bit of color even in the cooler months. It transitions perfectly to winter too, and pairs perfectly with a gold or silver party nail!
Gold: Essie Penny Talk – speaking of gold party nails, this foiled gold shade absolutely perfect for fall! It reminds me of all the gold leaves falling and it's so pretty. That's not to say you can only wear this as a party nail, because I wear this as my manicure color all the time! Plus this polish specifically lasts FOREVER and doesn't chip easily.
Burgundy: Urban Outfitters Bombay Funk – fall is the perfect excuse to paint your nails the color of wine. I LOVE a deep burgundy manicure and I have worn this color for years! So classy and timeless!
Black: China Glaze Evening Seduction – I love a black manicure. This is my "black" but it's actually a super super dark purple but you can only barely tell in the sunlight. Either way, I'm about it and this is my go to dark manicure!
Grey: CND Vinylux Rubble #144– lastly, a dark grey. Grey is great for the season and I love this one from CND. Another fave is You don't know Jacques from OPI. They are both gorgeous grey colors!
I should mention- no matter what season you can also find light pink or white on my nails. Those are actually my preferred manicure colors. For white I like OPI Funny Bunny and for pale pink I like CND Vinylux Cake Pop or Essie Fiji.
Shop all the nail polishes I mentioned above, here:


Happy fall, y'all! Until next time!
xx,