It's that time of year again people… hello FALL! The leaves are starting to turn, you're breaking out your sweaters and booties, and there is a chill in the air (unless you're in 90 degree Colorado, like me)!
I LOVE fall and for the first time in my life I have an apartment with all of my own decor that I can adjust in anyway I want for the season. I officially switched up my decor about two weeks ago which may seem premature but I don't even care! Today I'm going to show you guys some inexpensive swaps and additions I made to my home to feel more cozy and ready for the cooler seasons!
1. A new doormat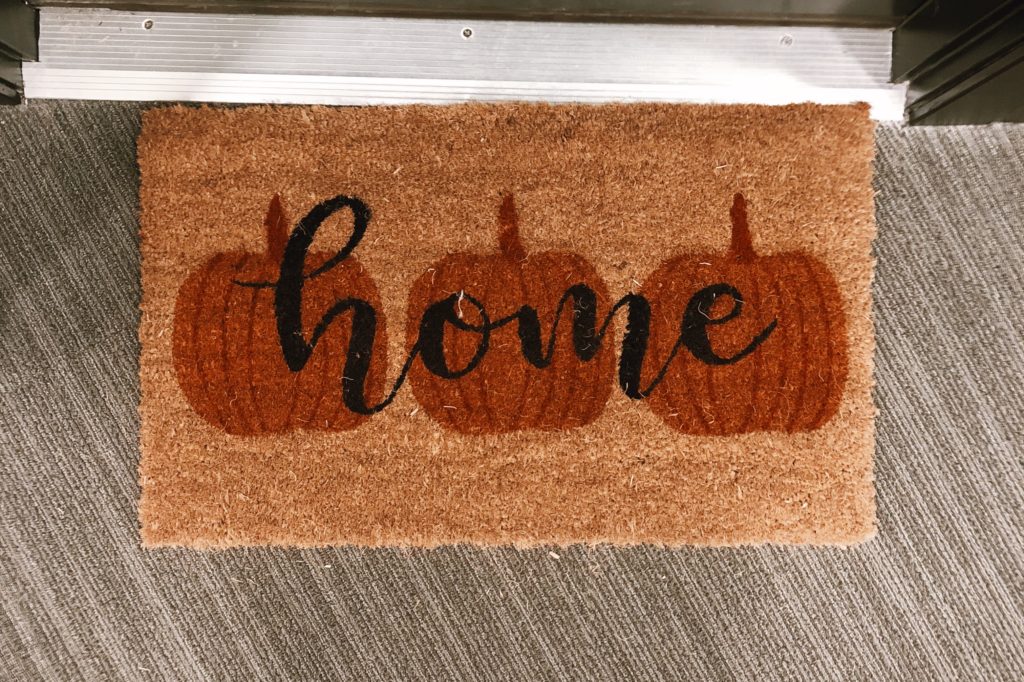 Doormats are anywhere from $5 to $30 dollars and can be a fun little switch depending on the season or holiday. You can even buy a blank doormat and customize it however you want! I got this "home" mat with pumpkins from JoAnn's for $8.
2. New kitchen towels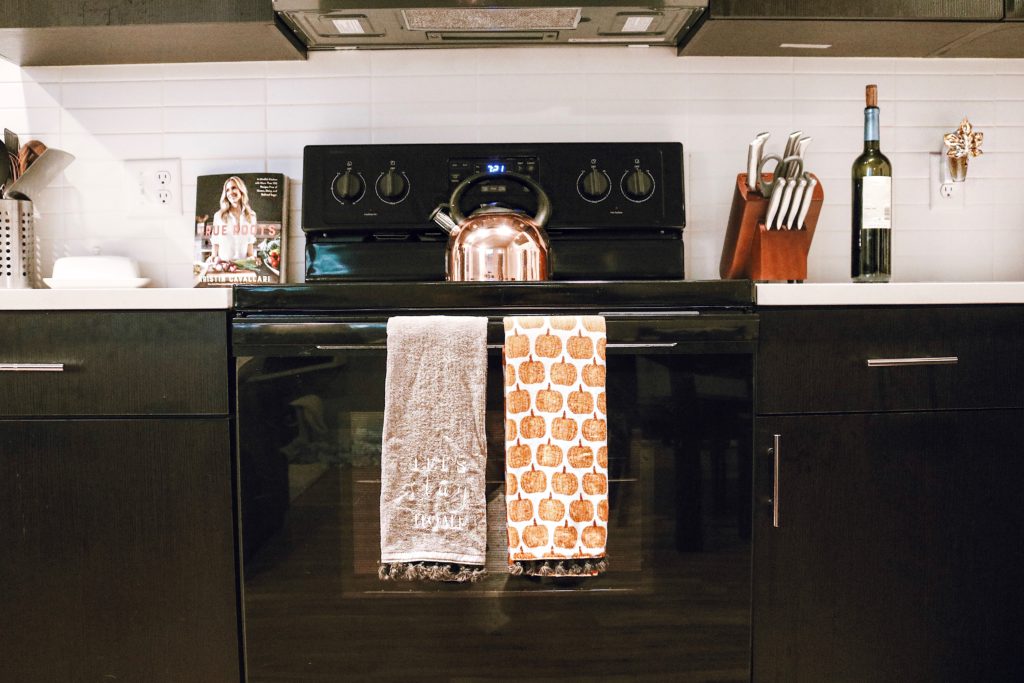 Am I the only person that has several kitchen towel sets that I rotate regularly? I hope not! Kitchen towels are another super inexpensive way to transition your home. These towels were $5 dollars from JoAnn's  and the easiest little switch to make! (The one on the left says "Let's Stay Home", sorry about the bad pic!)
3. A new throw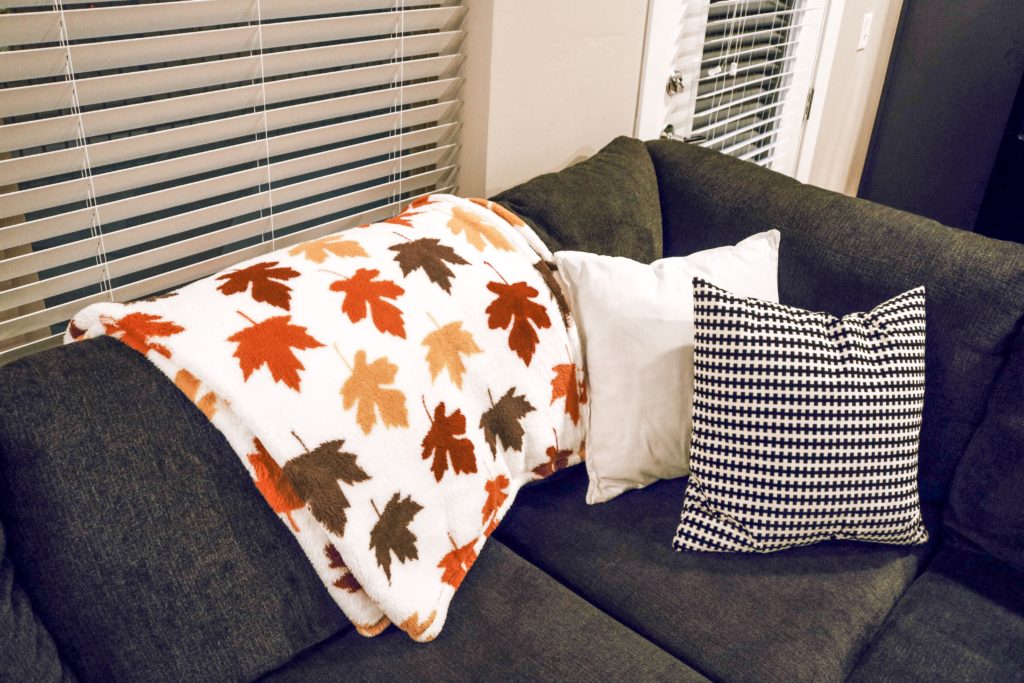 Fall is all about cozy! I saw this festive throw at Marshall's for $25 dollars and I had to have it! Not only is the pop of color fun for my mostly-neutral home, but it is sooo cozy and easy to pull off the back of the couch and snuggle up in!
4. Switch up your flowers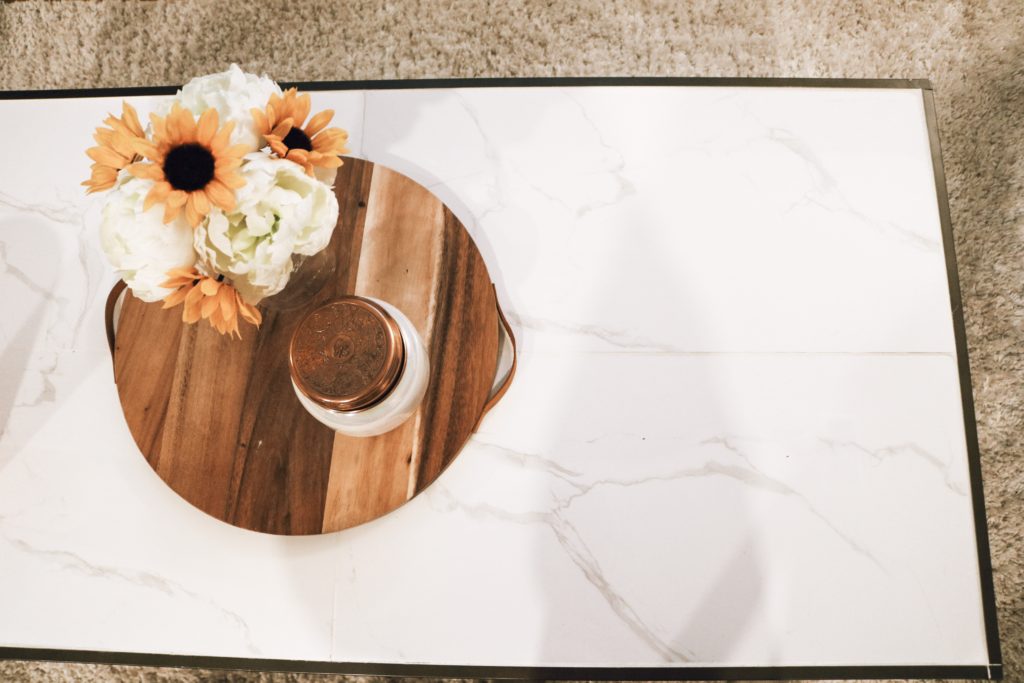 I have fake and real flowers in my home at all times. My fake flowers are all white, so last season I bought some sunflowers (seen above) and orange peonies (seen in next pic) to add to the white to make it a little more fall-friendly. So easy and SO cheap (I think these were from Hobby Lobby in sets that I cut up and arranged myself)
5. Of course you need pumpkins….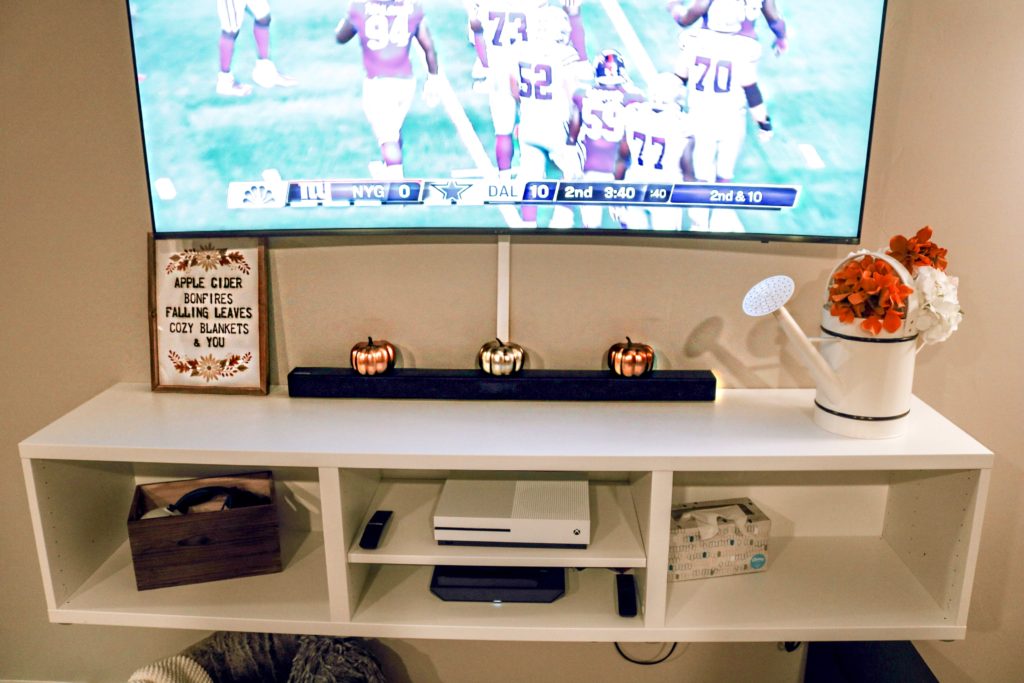 These little metallic pumpkins were from the dollar section at Target last season! I plan on buying real pumpkins and more fake pumpkins that are bigger, but these are so little and cute and can be styled in so many ways to add to your home! I'm not football fan either but I do enjoy a game on in the background in the fall (shh, don't tell Hayden I said that)
6. Some words for the season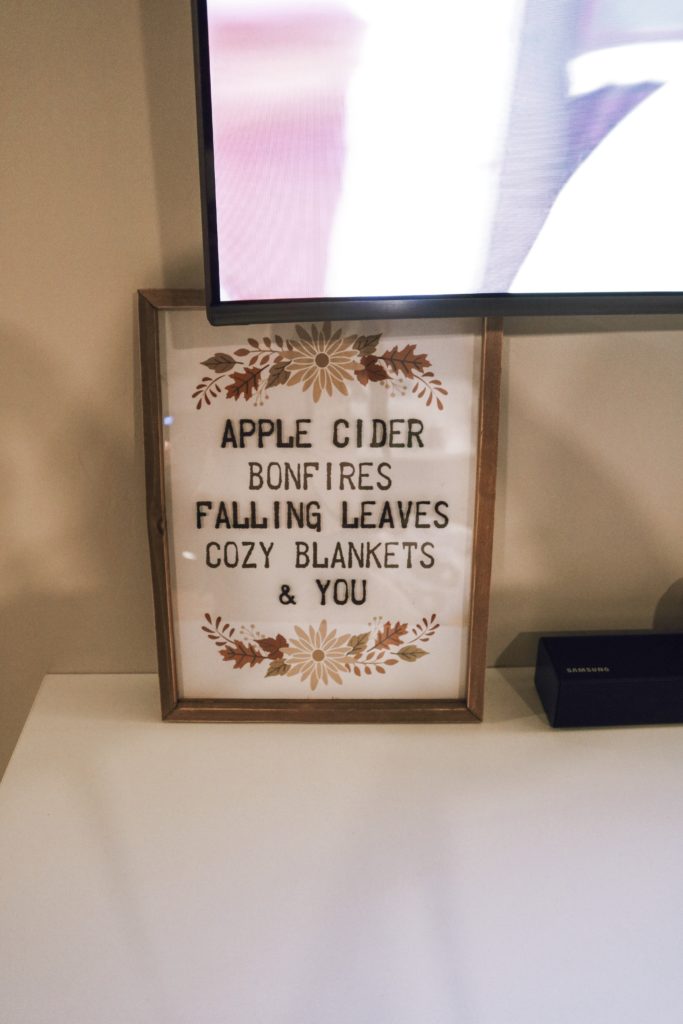 As soon as I saw this sign I had to have it! Hayden and I started dating in the fall seven years ago and every year this season brings back those memories of when we first started falling for one another. This sign reminds me of him and us and I love it so much! Find a cute little sign that suits you and your place, you can even DIY a "Hello Fall" sign to hang on your door, and it will add all the fall vibes to your home!
7. Fall Smells

Pumpkin, Nutmeg, Cinnamon… and the list of fall smells goes on! Pretty much all spring and summer I have Capri Blue Volcano burning in my house, but in the fall and winter I switch up my scents. If it was up to me my house would smell like I had just baked cookies at all times during the fall, but Hayden doesn't like those super sweet smells. One of my favorites that isn't overwhelming is "Marshmallow Fireside" from Bath and Body Works. So cozy!!
This little leaf scent is also from Bath and Body and was somewhere under $10 dollars. Grab one for each season and a different scent to go with it and wallah! Your house is fall ready.
8. Burn a candle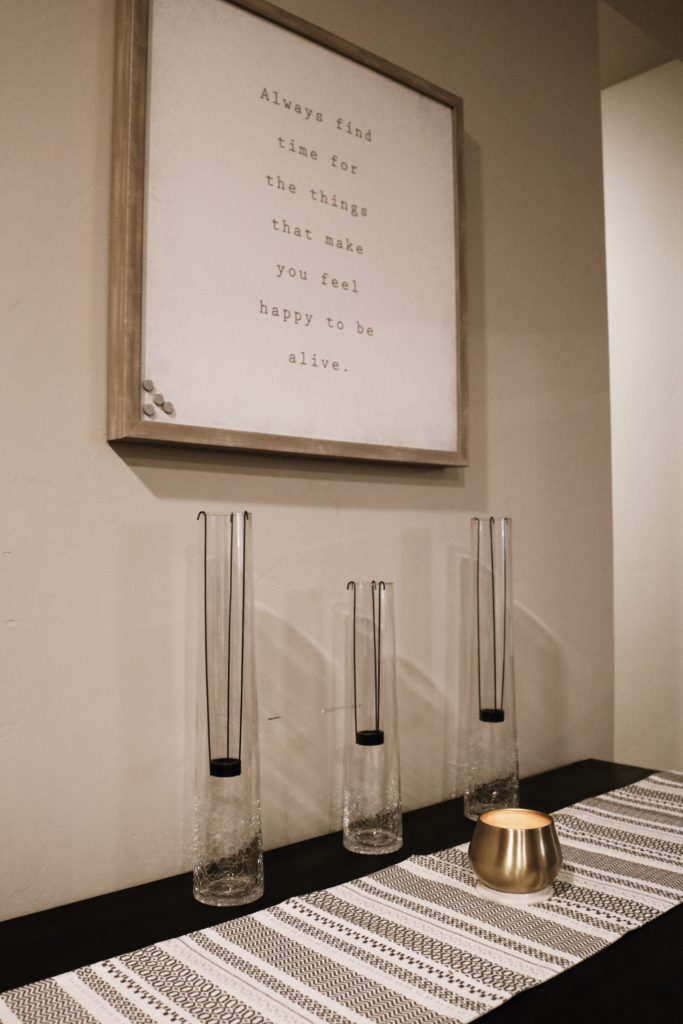 I have a candle burning in my house almost every time I am home, but especially in the fall and winter! I love dimming the lights, lighting some candles and snuggling up at home. To me, that's what fall and winter are all about! Candles make your place feel so much more homey and smell amazing. Who doesn't love that?!
That's all, y'all! Switching up your decor for the season is so much fun and does NOT have to cost a fortune! Hit up your local Hobby Lobby, JoAnn's, Michaels, and even dollar store, get a little creative and your home will be cozy and fall-ready in no time!
Until next time!
xx,