It literally feels like yesterday I was typing up my "I'm Pregnant!!" blog post and now here we are. Fletcher is ONE! I truly can't believe how quickly the last year has gone and that my girl is a toddler. As you have probably seen on Instagram, we hosted Fletchy's First Fiesta for her party and it was pretty much the best party we've ever thrown. Fletcher had the time of her life and my goal was to make the party as low maintenance as possible so that I could sit back and enjoy time with Fletchy. We accomplished just that – so here are all the details!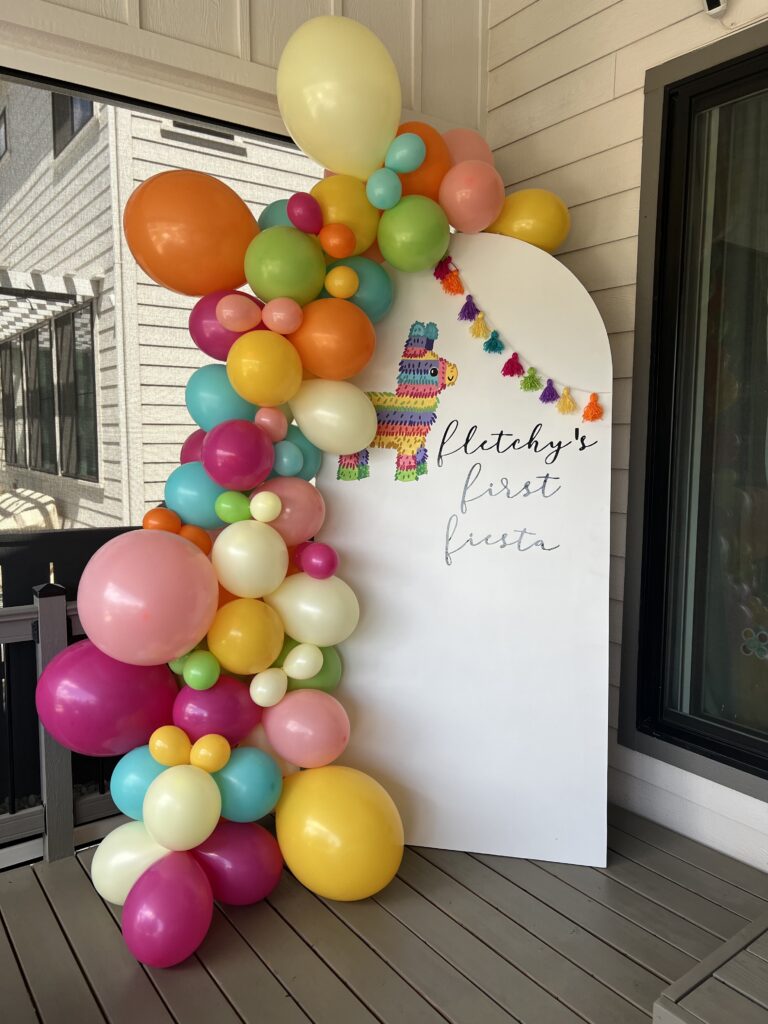 Starting things off with our backdrop that could not have turned out cuter. I got this balloon garland off Etsy and the quality was amazing- I felt like it actually turned out looking like how it was advertised and the colors were awesome. As for the big plywood backdrop, my husband made me this years ago and we sand it down/re-paint it for each party we throw. I wish we would have recorded how he built it because we get asked about it so much, but I'm pretty sure if you are savvy with a saw(?) at all, it's not too hard to make.
We used these invitations from Etsy and on them was the cutest piñata that I knew I had to recreate. I used my mom's ancient projector to project it onto the board, traced it in pencil, and then painted it using cheap acrylic paints from Michaels. I'm so happy with how it turned out and it actually only took two nights of crafting! The tassel garland was another DIY project that I would do while laying in bed and watching TV. They were really easy to make and accented all the other decor perfectly! I just bought 6 bright colors of yarn from Hobby Lobby. The text on the sign was cut using vinyl on my Circuit which I am still very much getting used to using.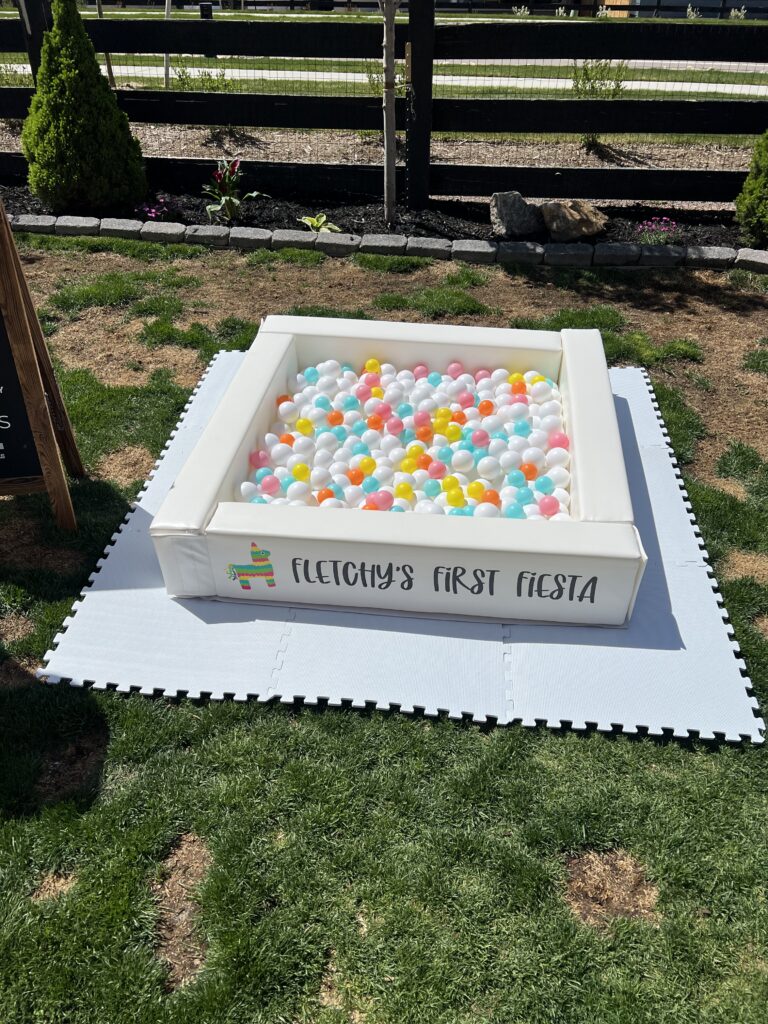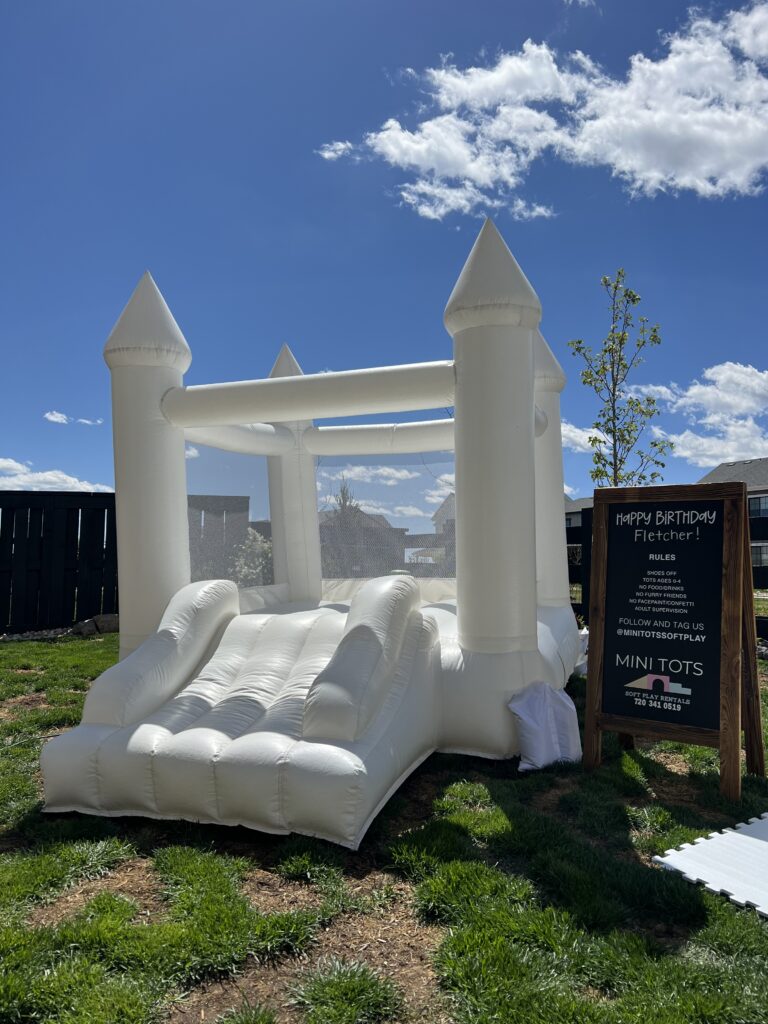 We rented the Whimsical White bounce castle and ball pit from Mini Tots Soft Play and wow – they were a hit with the kiddos! Fletcher literally has her own mini ball pit in our loft that she could care less about but we couldn't get her out of theirs! We had kids ranging from Fletcher's age all the way up to my niece who is almost 6 and they all absolutely LOVED these. I didn't realize how amazing these rentals would be but now I'm not sure I can host another birthday party for Fletcher without them. We chose the outdoor setup but they also can setup inside, and they even added this adorable "Fletchy's First Feista" decal for us! Side note – it was a super nice day so we ended up using our pop up to cover the ball pit so the kiddos could play in the shade.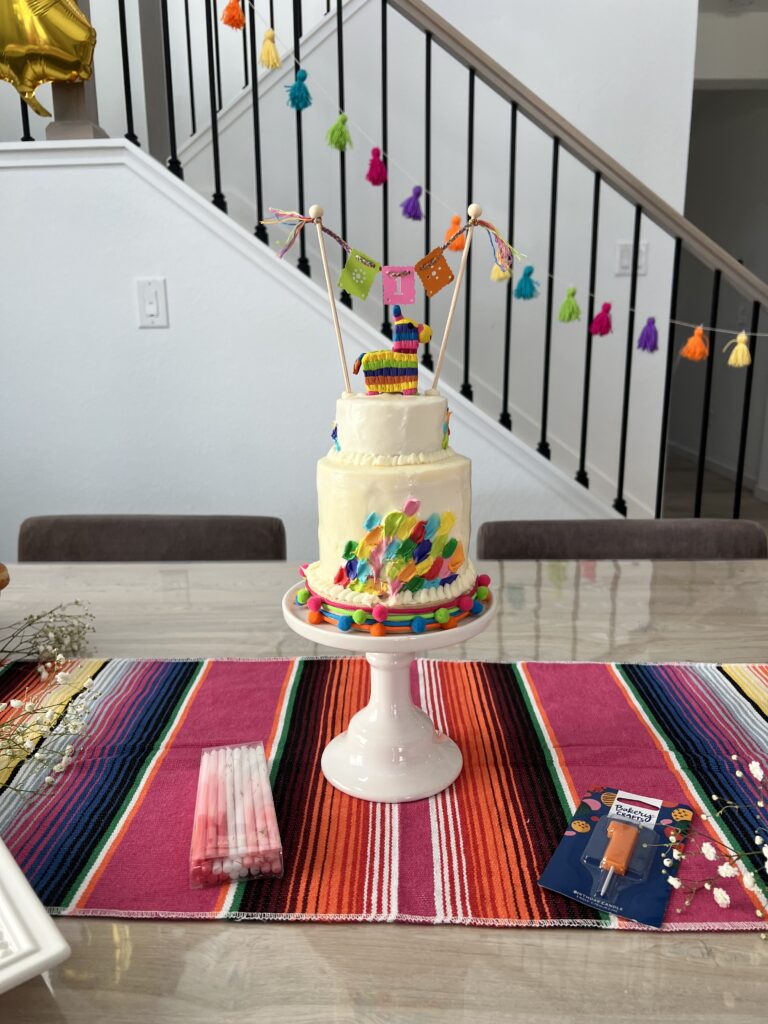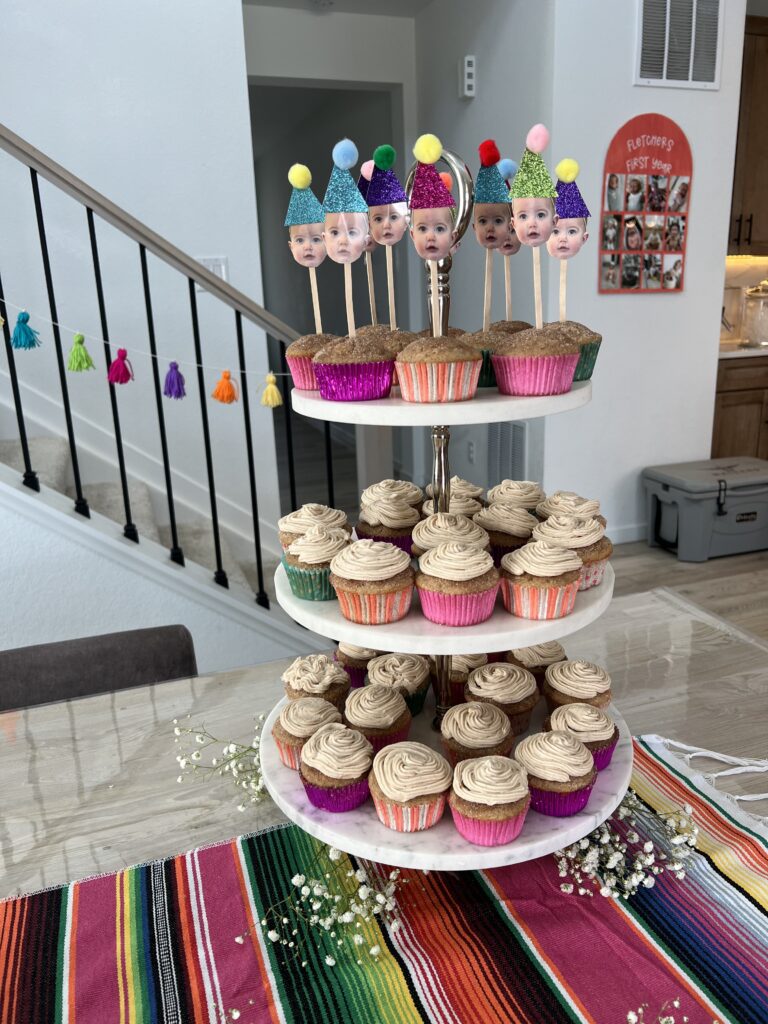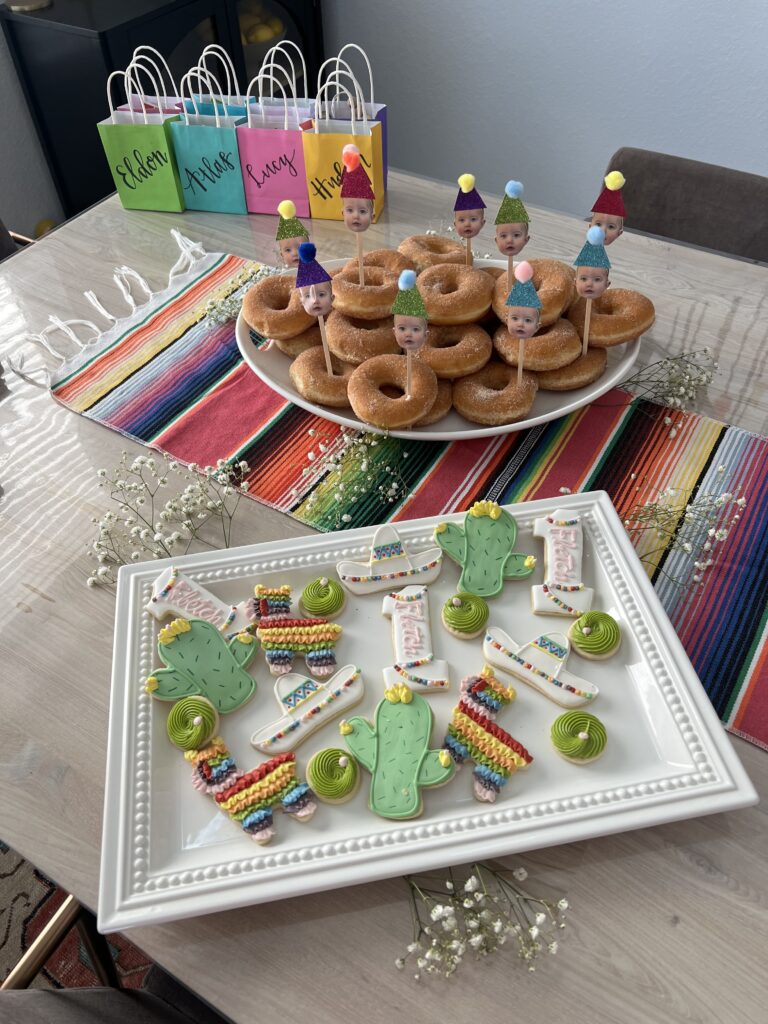 When I host parties, and just for life in general, I like things to be both pretty and practical. The entire dessert table was obviously necessary but they were also so pretty that we used all the desserts as decor! Starting off with this amazing smash cake that my mother in law made for Fletcher. She is so talented that I gave her pretty much no direction besides a few inso photos and this is what she came up with. It was beautiful and we kept the topper (that she also made!!) for Fletcher's memory box.
The adorable sugar cookies are from Brooky's Cookies! I also had her make cookies for my bridal shower and she crushes it every time!
Lastly we had cinnamon-sugar donuts from Krispy Creme and these amazing churro cupcakes with cream cheese frosting that my sister made! I sent her this recipe to follow and they were absolutely delicious! For cupcake toppers I simply printed 20 copies of a cute picture of Fletcher and cut out her face. I also got some sparkly paper from Hobby Lobby, sticks, and colorful cotton balls. I cut out the triangle shape from the sparkly paper and glued everything together! They were super easy and everyone loved them. Hayden and my mom even kept one as a souvenir!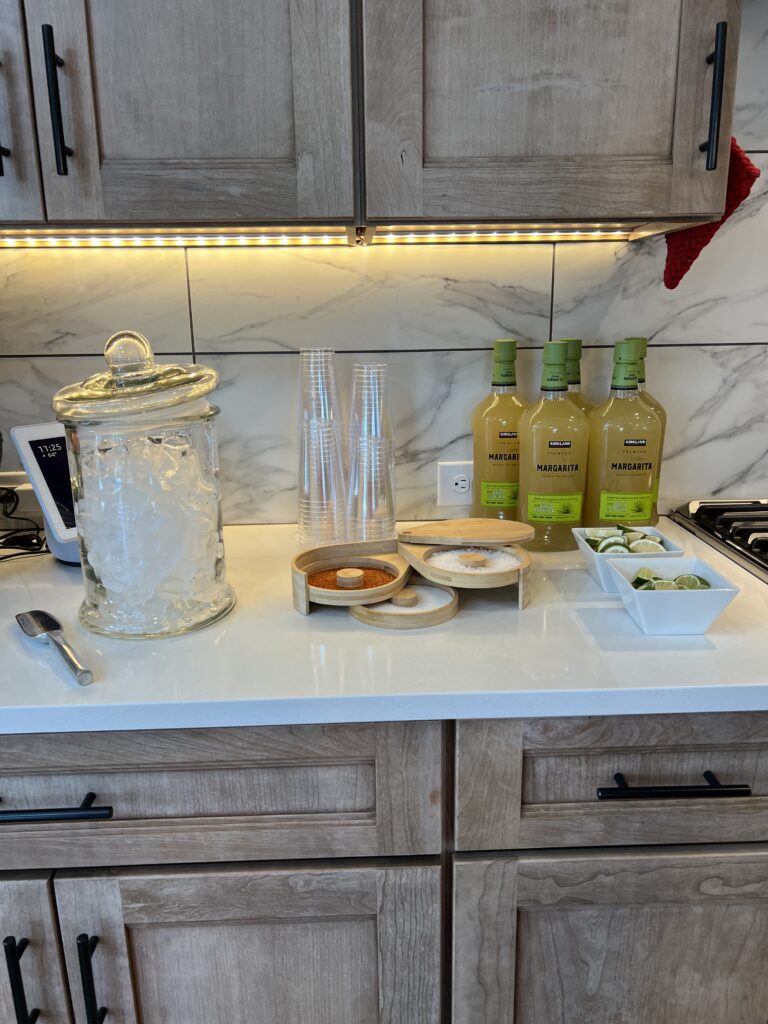 I didn't get many pictures of our food or drinks besides the margarita bar. We got this adorable rimmer from Amazon that we filled with salt, Tajin and sugar. The marg mixes from Costco already have alcohol in them, taste great and are super budget friendly! Finish everything off with some limes, cups, and ice and you're all set! We kept a small cooler next to this station filled with more ice to replace as it ran low.
We also kept a cooler outside with Pacifico, Modelo, Toro Chicco and Jarritos Mexican sodas.
Lastly for the food we did a taco bar. I simply prepped the ground beef that morning and stuck everything in a croc pot to keep warm. We had flour, corn, and hard shell tortillas, my father-in-laws famous queso and my mom prepped toppings like tomato, onion and lettuce. I got some guacamole and salsa in bulk from Costco and a bunch of tortillas chips. This food was delicious, so easy to prep and didn't require any of my attention during the party which was my favorite part!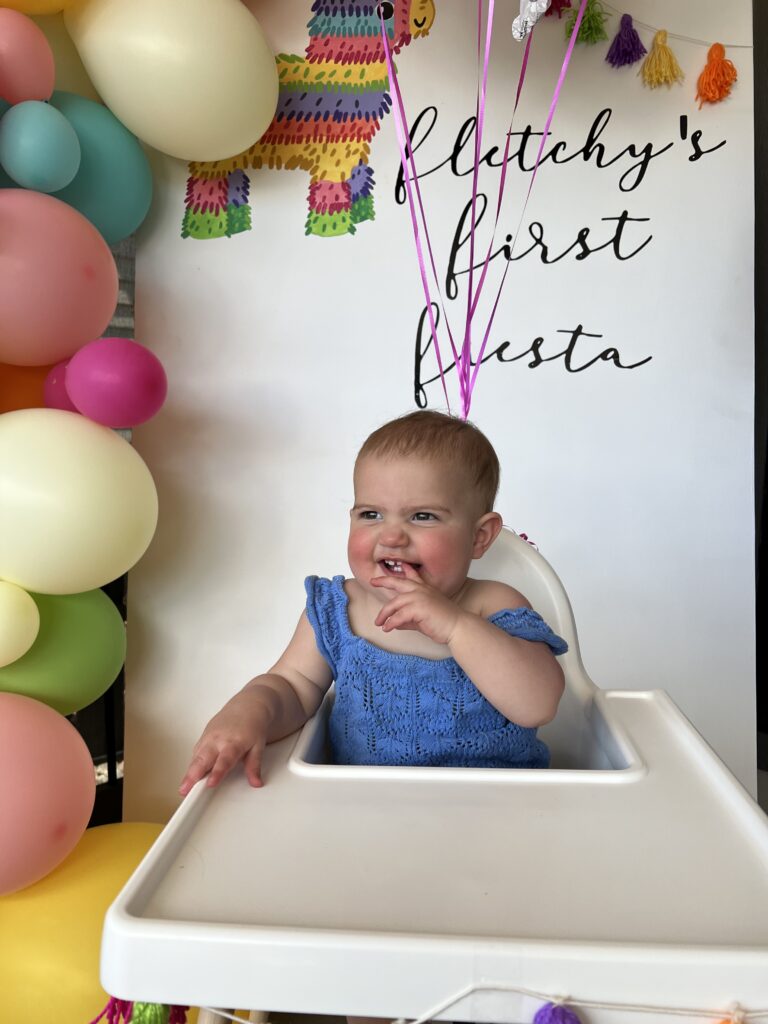 I can't believe this little girl is one!! She woke up on her birthday and was already bringing out new skills like blowing kisses, standing for long periods of time without assistance and hiding her eyes like a pro for peek-a-boo. To know Fletcher is to love her. She is the sweetest baby ever with a spunky, fiery side that we just love. She makes friends everywhere she goes and loves being social. Our favorite thing about her is that she will match your energy no matter what- so when Hayden or I bust to into a song and dance, she is the first person to start dancing with us. She is happy, funny, and wild and we cannot get enough of her. Happy birthday, Chicken Nugget. We love you SO much!!!
xx,