*This post is sponsored by Huggies
One of the most asked questions since announcing my pregnancy has been to share my baby registry. It is so fun to research and register for all the latest and greatest baby items, but I noticed that in the process it's easy to get caught up in the "new" and possibly forget the "necessary". Two items in particular that I especially feel get overlooked are diapers and wipes.
By this point, you all know that I'm someone who does lots of research before I make decisions. This has been especially true when it comes to shopping for my baby, so looking into diapers and wipes was no different. Some things I was looking for in a diaper: comfort, absorbency, and ability to control as much mess as possible. As for wipes I wanted something: clean, gentle, and would get the job done without irritating the baby's skin. Ultimately, Huggies Little Snugglers Diapers and Natural Care Sensitive Wipes were the perfect match!
My baby is going to be in diapers all day, every day, so her comfort is a top priority. Little Snugglers Diapers are extra soft and known for their comfort with stretchy waistbands around baby's tummy and legs. The comfort doesn't take away from its effectiveness, though, as it has a fast-absorbing liner and, my personal favorite feature, a small pocket in the back to catch messes and keep them inside the diaper. These diapers are hypoallergenic too, so they really did check every box.
As for wipes, Huggies Natural Care Sensitive Wipes keep it simple. They are a natural and clean, plant-based wipe with 99% purified water. They are effective at cleaning up messes while also being soft and gentle on baby's skin. I know I can trust them because they also have a Seal of Acceptance from the National Eczema Association!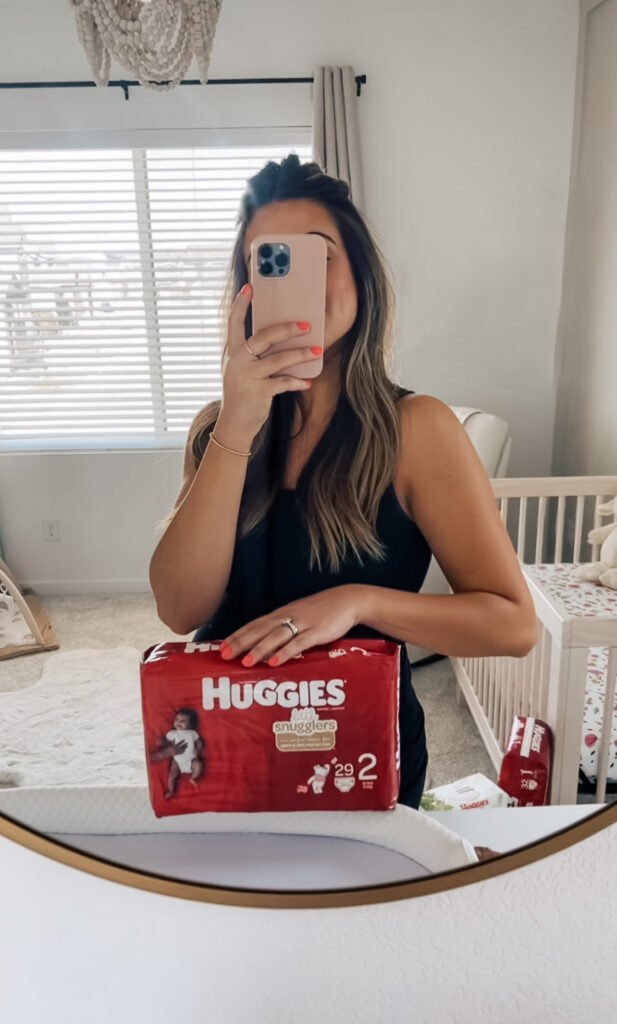 As my due date approaches, I'm realizing just how valuable it is to have a good supply of these products and know that you've already found the best product for your baby. My pro-tip is to add Little Snugglers Diapers and Natural Care Sensitive Wipes to your registry so that when people are shopping and want to throw in an extra gift, they can see exactly the types of diapers and wipes you want. You can do so here, through retailers such as Amazon, Walmart, Target and Babylist. You can also learn more about why Huggies is perfect for your baby registry by checking out my Instagram Reel & TikTok video.
Even better, my sister hosted a "diaper raffle" for my baby shower, so everyone that brought a pack of diapers or wipes was entered to win a small prize. This was a super fun way to encourage everyone to shop for the essentials, and I got to stock up on my Huggies!
Only four more weeks until my baby girl is here and I can't believe we're in the final countdown. I'm so excited to meet her, learn her personality, see who she looks like and finally give this whole "mom" role a go! I'm feeling nervous, excited and pretty much every other emotion but I mostly feel prepared and so, so ready. My nursery is complete, my hospital bag is packed and my Huggies diapers and wipe supply is fully stocked. Let's do this!
xx,


#WeGotYouBaby