I have been getting so many skincare questions lately so I figured it was about time that I posted an updated routine. My skin has been a huge focus for me the last year leading up to the wedding because I obviously want that bridal glow and while makeup works wonders, it's only as good as the skin underneath! I am really happy my routine lately and I think that these products are super versatile and will work for a variety of skin types!
Morning:
I start of each morning my splashing my face with some water. I never sleep with makeup on so in the morning I don't feel the need to cleanse, instead I think splashing my face with a little water wakes up my skin (& me) and lets my skin breathe a bit.
Next I follow up with this toner. This is new to my routine (I have been using it for about three months) and I absolutely LOVE it. It has made the biggest difference in the texture of my skin and I think it makes it look so much more even. I especially love this one because it is so gentle. I don't have super sensitive skin, but in the past when I have used toners they almost always burn and tingle. This toner doesn't do that which initially made me question its effectiveness, but I stayed consistent with it and now I couldn't imagine my routine without it.
Next up I apply my Image Vital C Serum. This is an absolute staple in my skincare routine and has been a favorite of mine for years. I can't recommend it enough!
Lastly, I apply my moisturizer. Khiels and Tula have always had my favorite moisturizers but until about a month ago I was reaching for Khiels more. I finally made the switch back to Tula because my skin was so dry from this winter that I thought I needed to mix it up and I'm really glad I did. I notice my skin breaking out less with the Tula and just feeling more hydrated in general. I also added Tula's Dew Your Thing to my routine because I was so desperate for my hydration and this combo is amazing. I apply the Day and Night Cream first and follow up with the Dew Your thing. They are super hydrating, wear well under makeup, and give your skin a nice luminosity.
My morning routine is super simple and consistent. Nighttime is when things start to get a little more complicated…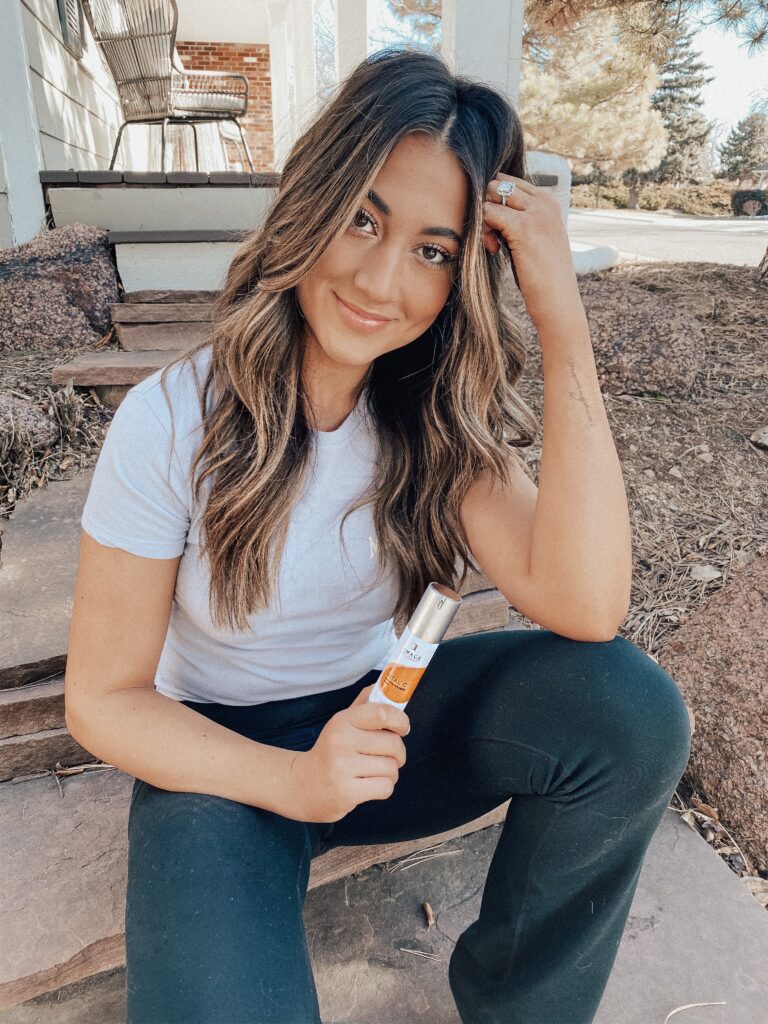 Nighttime:
Every night I was my face in the shower and lately I have been double cleansing. I don't remove my makeup with a balm or wipe before I wash my skin, so my first cleanser is the Jan Marini C-Esta cleanser. This removes all my makeup, smells amazing, and gets my skin feeling squeaky clean (I feel the same way about Tula's cleanser, so if you don't want Jan Marini's, that one is great too).
After using that cleanser, I cleanse again with Tula's Acne Cleanser. This is a foaming cleanser that is pretty gentle but don't get me wrong, you can feel it. I don't love the smell of it and you definitely cannot JUST use this (it won't take off any of your makeup or deep clean) but I do feel like it treats my freshly washed skin to keep it clear.
After I shower, the routine that follows depends on the night of the week. I have been trying to exfoliate my skin more often and using different techniques without damaging it. Regularly exfoliated skin means more turnover, revealing your brighter, softer, smoother skin underneath. Too much exfoliation can be drying and for me, cause more breakouts. Here's what I've been doing:
Sunday & Wednesday
I use this Dr. Brant Super Peel. I love this peel because it is super effective and works FAST. The bottle says to apply it with your fingers but I have applied it with a cotton round too and it's worked just as well and isn't as messy. Leave this on for three minutes, rinse off with water, and pat your face dry. Done! This is a chemical exfoliation so it will work long after you remove it, but your skin will immediately feel smoother and look brighter. Just be careful not to leave it on any longer than three minutes as it is very potent!
Monday & Thursday:
On these days I add Drunk Elephant's Retinol into my moisturizer. A retinol is another chemical exfoliant and retinols in general are SO amazing for your skin. My mom's dermatologist says that she can "definitely tell" which of her clients use a retinol and those who don't. They are great for anti-aging and preventing wrinkles, they increase cell turnover, and they work better the more you use them! In other words, add one of these puppies into your routine ASAP! Just like the peel though, a retinol is nothing to mess with. Start by using it in small amounts and only once a week. Gradually you can work your way up to more often, but they are very powerful and drying so just work slowly.
Tuesday, Friday & Saturday:
On these days' I don't use any kind of exfoliant and proceed with my regular nighttime routine which is….
Toning – this is the same toner I use in the morning. If I'm using my peel, I will do that first and then go in with my toner. If I'm using my retinol, I will go in with my toner immediately after I get out of the shower.
Moistuizer: I like to use the Tula Hyrdating Day and Night cream again at night as well as the Dew Your Thing. If I'm using my retinol I will just add a pea size amount into my palm with these moisturizers and then work them into my skin. If not, just these two are enough.
Eye Cream: While I have yet to find an absolutely amazing, gets rid of any bags and dark circles eye cream, I am currently using the Summer Friday's Jetlag Mask on my under-eyes. I keep it in the fridge as well, which helps even more with puffiness, but it's not necessarily a miracle worker…. If you find one, let a sista know!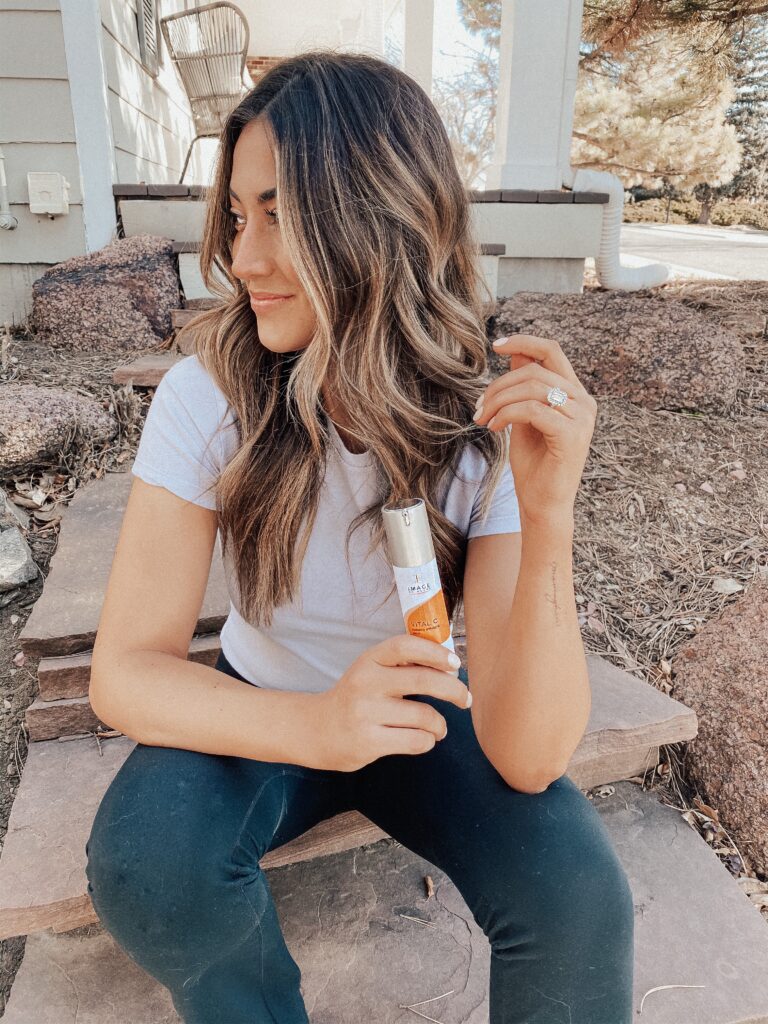 Treatments:
That sums up my regular routine! The next few things I'm going to talk about are treatments that I try to work into my routine with some regularity but don't always make the cut.
Jade rolling: I do like to jade roll on occasion. I would say I do it once per week at a maximum, but you could jade roll every night and it wouldn't do any harm. This isn't something I necessarily see amazing results from, but they say its amazing for wrinkle prevention and it feels good, so I'm about it. I like to keep mine in the fridge, which makes it feel 10X more amazing!
Microdermabrasion: I don't do this quite as often, especially with all the exfoliation I already have in my routine, but if I feel like my skin needs a deep exfoliation, I love my PMD. It works really well and is super easy to use. Again, be careful when using!
Masks: I do a facemask at least once a week but sometimes more just depending on what my skin is needing. Here are some of my favorites: Sanitas Pumpkin Enzyme, Body Shop Purifying Charcoal Glow, and Body Shop British Rose Plumping Mask.
Skincare posts are always tricky because what works for me may not work for some of you, and my skin is far from perfect. That being said, I am very happy with my skin right now and this routine is what has been working for me, and what I hope works for/helps some of you! I'm not an expert but I am happy to share my experiences with any products with you guys or answer any questions you may have!
Until next time!
xx,