WOW, HI!
It has been a minute since I've drafted up a new blog post for you guys and I've got to say, it feels pretty good to be back! As most of you probably know if you follow me on Instagram, we bought a house! Well, we bought a lot for a new house to be built on, technically. I have been kind of quiet about the process because I've always been taught to not get excited about something until it's official, and while we obviously don't have pen to paper yet, we finally have a real house sitting on the lot that we purchased, so the whole thing is starting to feel a lot more real!
For some back story, Hayden and I purchased the house back in February of 2020. We bought in a brand new community so at the time there wasn't even a road to where our house would be, just a giant field of dirt and mud with a little sign on our lot. We saw the potential in the community right away and got to tour a few model homes – immediately we found a house that checked every single box for both of us and the whole thing was kind of a no-brainer! We were absolutely thrilled at the time, and now here we are six months later: our house has walls and a roof, there are several other houses completely built in the neighborhood, and the whole community is coming together SO nicely. Excited is an understatement!
Now that we are a little further along in the process and gearing up to start purchasing some furniture for the house, I wanted to share some of my home inspo with you all! This is looking at the house from a decor stand point, but we did recently get to pick all of the finishes, everything from the floors, tile, and backsplash to the color of the grout in the showers! If you guys are interested in seeing what we picked out, I would be more than happy to share!
Master Bedroom/Bathroom:
For our master bedroom, I really want it to feel like an oasis: lots of neutrals, light and airy, simple and cozy. We have a lot of natural light in this room and it is super long so we will have a chaise or some chairs at the end of the bed. I'm hoping to find some oversized nightstands, an upholstered bed frame that sits up nice and high, some neutral artwork and greenery to compliment everything.
The master bath, and all the bathrooms in the house for that matter, will be bright and crisp and neutral. We went with matte black hardware and fixtures throughout which I am so excited about. Some fluffy white towels and a pop of greenery are all we will need to complete the space!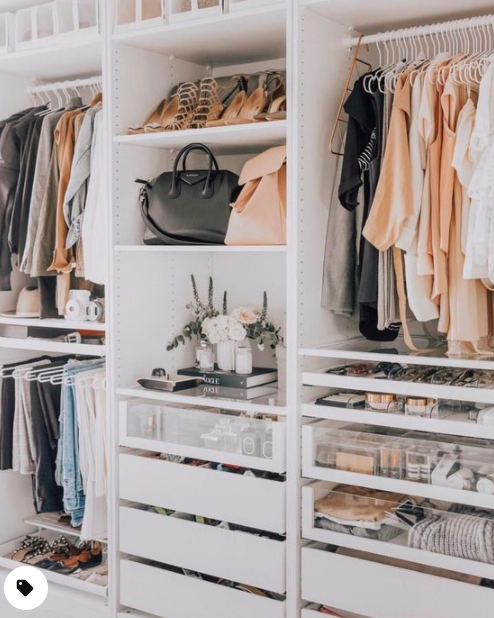 Last but not least, we are really wanting to customize the master closet. Ya girl has lots of clothes and Hayden has no shortage of shoes, so an organized space in there seems like a necessity!
Living Room:
The living room isn't going to be far off from the master. We will have a cozy room with lots of neutrals and natural light. I'm also so excited because we will have a fireplace in this room! I *think* I'm going to attempt a Venetian plaster on the fireplace, and if that fails horribly (likely) we will do some black shiplap instead.
Kitchen: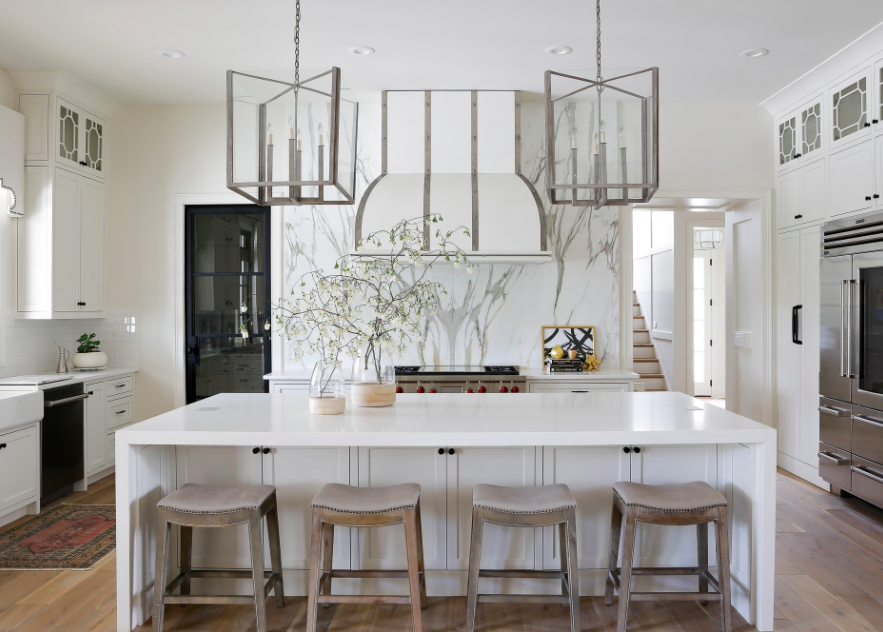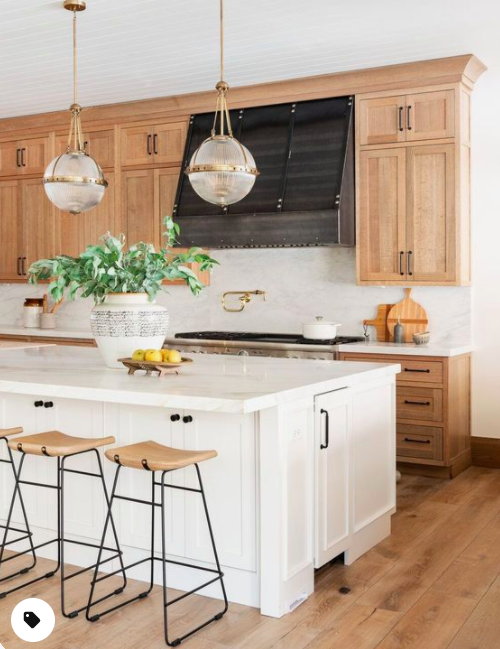 Our kitchen will have white countertops with white cabinets on the island and natural wood cabinets on the perimeter. We are going to add four barstools and two pendant lights above with, of course, some greenery and maybe a pretty bowl with lemons just 'cause.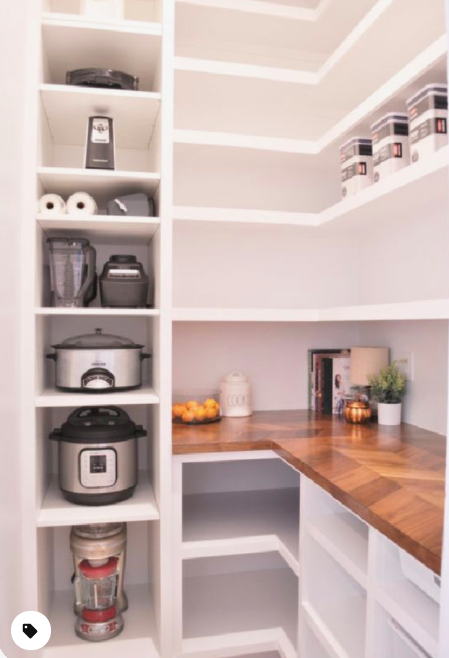 We have two small pantry's in our kitchen and we plan on turning one into more of a butler's pantry, like the photo above. We're going to build some appliance storage like this, as well as add a butcher block countertop where our coffee station will go. Some open shelving and drawers for storage will hopefully complete this fun little kitchen escape!
Dining Room: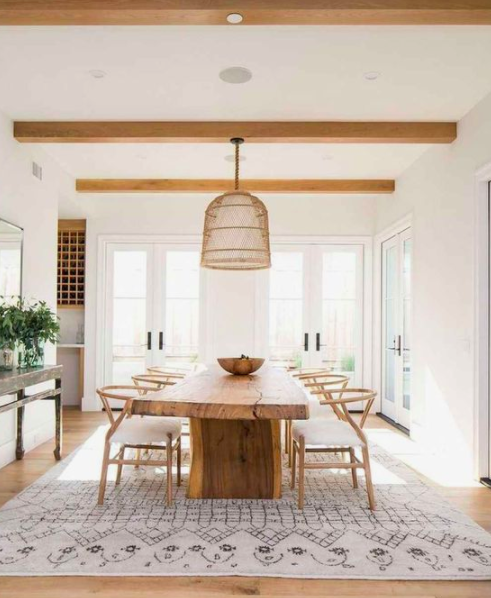 The dining room is the only room in the house I'm not completely sold on. As of right now, I like the idea of something that flows with the rest of the house, but with a coastal flare. I'm not completely sold on this because while I like it, I also like the idea of the dining room being the only room in the house that's a little fancier. I'm not sure what fancier would look like yet because I haven't found a concept I love, but I'm going to keep searching!
Office: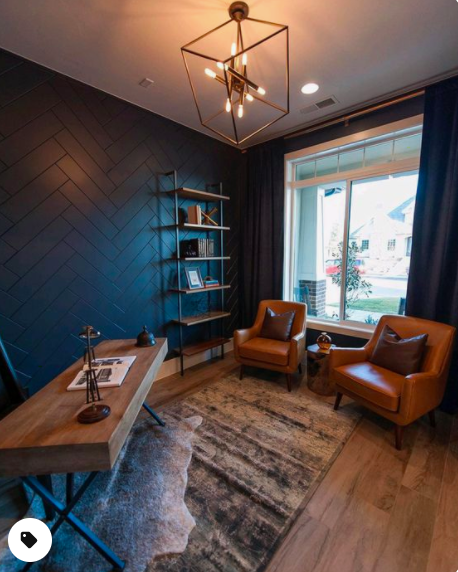 The main floor of our house had a bedroom that we decided to convert to a study. This will be Hayden's office since he works from home, and I'm so excited about it! The vibe will be very similar to this with a desk, book shelf, and possibly a black accent wall.
Gym: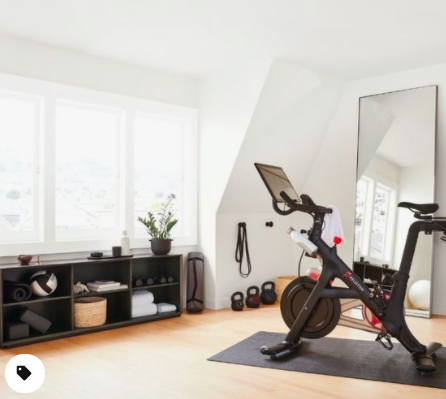 Last but not least, we have a loft upstairs that we will be turning into a gym area. I know myself and I will be 10X more likely to workout if I have a clean, well decorated place to do it. We're going to add a treadmill, some weights, a ballet barre, and hopefully some mirrors!
Aside from the rooms I've mentioned here, we will have a guest bedroom and bathroom upstairs that we will decorate using stuff from our apartment, as well as an extra bedroom that I will use as an office/beauty room until it one day becomes a nursery!
All of the photos I've included here are from Pinterest (linked if you click on the picture!), but if you are interested in following along with more of my pins or other boards, be sure to follow along on my Pinterest here.
Until next time!
xx,