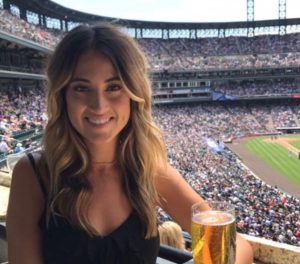 I have always been pretty low maintenance with my hair. I'm definitely more of a makeup person, so up until recently when I started getting into haircare, I was a shampoo, conditioner, and some hairspray/volumizing powder when I curl my hair kind of person (ok, maybe I'm not that low maintenance, but I like to think I am). Some background on my hair: I have a lot of it. Its pretty fine (thanks mama), but there is a LOT of it (thanks pops). I have been coloring my hair since I was a sophomore in high school, so 7 years now, but not super consistently until the last 3 years. I get a golden/blonde full set of balayage highlights (think Jessie James Deckers' hair because I always take in pictures of her) about 2 times a year, with a touch up in the front every once in a while when my hair is growing super fast (which if I am being honest, it grows like freaking weeds). I also cut my hair about 4 times a year. I have always had stick straight hair up until last year when all of a sudden my hair decided it was going to be wavy and frizzy ONLY around my ears (insert upside down smiley face here). Its been a real inconvenience because since I was never a huge hair person I could usually get away with my hair just air drying when I got out of the shower and calling it a day, but now I can't get away without flat ironing at least a few pieces around my ears. Sounds fun right? Well, in some ways with my hair care I am still really low maintenance, but the new frizziness has sparked some interest in me trying new products, so I wanted to write a post about what products I've always loved and what products I'm newly obsessed with.
Lets start with shampoo and conditioner. Remember when I said I was low maintenance? This is what I was referencing. I am DIE HARD committed to the Smooth Collection Shampoo and Conditioner from Herbal Essences. Not the yellow one, but the pink one. This stuff is amazing and its something like $5 dollars at your local drugstore (of course if you're an online shopping kind of person, you can purchase them here instead). I have literally used this stuff since I was a baby. It was always the shampoo and conditioner my mom bought growing up, and even though I strayed a little in high school when I started making some of my own money (I was young and naive) I have always been committed to it. I cannot even being to describe how good this stuff smells. If you like floral scents like me, then you need to give this try. It smells like straight up roses and leaves your hair smelling like that forever! Sometimes I'll get a wif of my hair or my moms and it surprises me how good I still think it smells since I have been using it forever. Not only that, but the conditioner is so creamy and makes my hair so soft and shiny. Even if I am just going away for the weekend I will pack little bottles of these products because one wash with a hotel brand and I am not a happy person.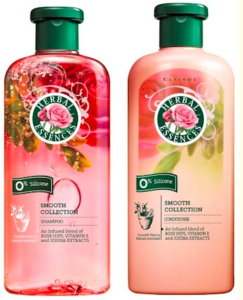 SOMETIMES when I just need to mix it up (like I said I have used this stuff for 20+ years) I will buy a bottle of Pantene. No kind in particular, but I really like the smell of Pantene products and I think they also leave my hair pretty soft, but no matter what I always revert back to my Herbal Essences.
Ok my next product is a little weird but bear with me. I am the person that washes my hair every single day. I know, I know, its not good for my hair, but my hair just gets greasy so easily that I have to (I know, it gets greasy easily because I wash it so much but its a vicious cycle that I can't break so leave me alone!!). Anyways, every 6 or so months my hair will stay a little greasy even after I wash it. One day I was expressing my frustrations about this to my gem of a mother when she told me a little trick that she used to use when she would have greasy hair. Dish soap. Yep, you read that right, I said dish soap. The first time I used it I was having a panic attack the entire time thinking all my hair was going to fall out (CJ's tips haven't always been known to work so well), but on this occasion, mama didn't let me down. The dish soap is so good at fighting grease that one wash with it cuts all the grease out and leaves me with clean, flowy hair. I don't have a particular brand or scent that I always use for this, I literally just grab whatever is under the kitchen sink (don't judge me!). 
A newer product I am really loving is the Ouai Treatment Mask (more to come on this brand later in the post). This is a mask that when my hair is feeling dry and dull I throw on for 10 minutes before I get in the shower, and when I'm done my hair feels brand new. The back of the bottle says its a "restorative healing mask thats formulated to repair damage". I style my hair pretty much every day with the beachy waves look, so my hair takes a lot of heat. Usually it handles that pretty well but when the heat starts to take a toll on my hair, this mask is the perfect boost it needs to get back to being soft and healthy looking.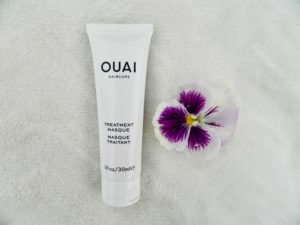 Another new product that I am loving and unsure how I ever lived without is the Ouai Hair Oil. The bottle says: "a multitasking oil that smoothes frizz…" I didn't have to read any further to be convinced that I needed to buy it. If you do need more convincing, it continues "…and seals split ends for a high gloss, super smooth finish".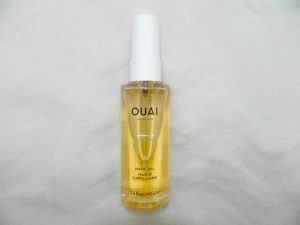 It also talks about how the ingredients in it help protect color from fading and protect the hair from heat damage. Convinced now? I sure was. There is nothing this oil doesn't do! When I get out of the shower I rub some of this through my hair, focusing primarily around my ears (damn frizz) and at the ends. I also use this when I'm done styling my hair by rubbing it through the ends to get a pieceier (not a word but you know what I mean) look. Not to mention, the smell is amazing.
Thats about it when it comes to haircare products for me. The rest of the products I use are styling products and I'll get into those now.
Remember when I said that I have stick straight hair? Well, its flat too. I am always looking for stuff to pump up my hair after I style it and I think I've got a really good combo going right now. The first thing I use thats new in the routine is the Ouai Texturizing Hairspray. This stuff, like all the other Ouai products I've mentioned, is amazing. After curling I separate my hair into some sections and spray the texturizing spray straight onto my roots, then I spray some through the ends of my hair, and then flip my hair over and zhuzh. It adds a very light grit to my hair which I don't mind at all and it smells incredible.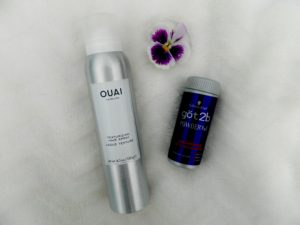 If my hair really isn't cooperating and I need some more volume I use the Got2B Powder'ful Volumizing Styling Powder. This stuff is no joke and will get you some serious volume, but it adds a lot of grit to your hair. I can't use this stuff without having to come home and shower and scrub my scalp, and even then it doesn't all come out until I wash my hair a second or third time. I personally like the Ouai spray better, but if you need some serious volume especially for an event or something, this volumizing powder is the thing for you.
I'm not a huge dry shampoo person, because I do shower everyday. But when I do use dry shampoo its always the Batiste Blush Floral and Flirty Dry Shampoo. I have tried only a handful but this is the only one I've come across that even works. It doesn't leave a cast in my hair and does the job to get me through the day!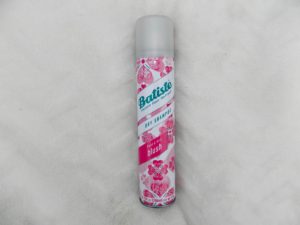 Last but certainly not least, my hair spray. Another ride or die product that I have used forever.  My absolute favorite is the Mega Hair Spray: Flexible Hold from Aussie, which I use on a daily basis. I like it because it gives my hair a light hold but it doesn't feel like I just sprayed glue all over my head. I can still run my fingers through my hair after using this and again with the smell, its the absolute best. Sometimes if I am styling my hair for a big event and am looking for a super strong, will not budge all night (but need to shower immediately upon arrival home) hairspray, I will use the Aussie Instant Freeze Hair Spray. This is some serious stuff and you need to be really light handed with it but my hair will not budge if I use it!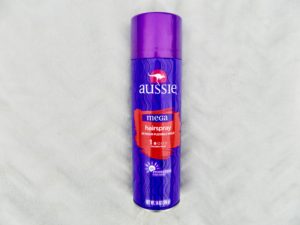 Thank you so much for reading! I hope that if you're looking to spice up your haircare routine or update your styling products that this post was helpful and you found something you like! Here's to wishing everyone no bad hairdays!
xx,