Let's talk wedding dresses! In my mind, the dress is one of the first things you should check off your list (after your venue is booked, date is picked, and your photog/videographers are booked – a full version of my wedding timeline is coming!)
Here were my requirements for a dress:
I wanted straps- thicker than a spaghetti strap but not too wide
A deep, plunging v-neckline
Something that was fitted through my torso and then just fell to the floor (this part was extremely tricky – I didn't want an A-line shape, but not a mermaid style either. I just wanted the dress to simply flow straight down to the floor)
A low, open back
Lots of beading and detail, but the detail couldn't be so dainty that it wouldn't show in pictures or was only noticeable in person
Something that looked very elegant – even though we had a Cabo wedding, our wedding was not on the beach and the attire was formal
I should mention, all of the above were my non-negotables. I had other things I of course wanted in my dress, but these were my must haves. I tried on so many variations of what I've described above it makes me dizzy. Dresses always seemed to be missing one or two of the items and that just wasn't going to cut it for me. When I finally found my dress it wasn't because lightning struck and it was absolutely perfect, but because it was the closest thing to it with the most potential to become exactly what I wanted.
Here are the things I LOVED about my dress:
fit like a glove
perfect amount of bold detail and it was unique
super elegant
gorgeous train
AMAZING back
fell to the floor the way I wanted
Here are the things I wanted to change:
too much material in the chest – wanted to add some mesh and making it more of a plunging V-neck
the straps had a little curvature and I wanted them to be stick straight down into the V
the sides under my arms came up too high/covered too much, I wanted to open that up and add mesh
I had tried on one other dress where the top looked exactly how I wanted my dress to look. I'll insert a picture below, but ultimately I wanted to alter my dress so that the top shape was more like this: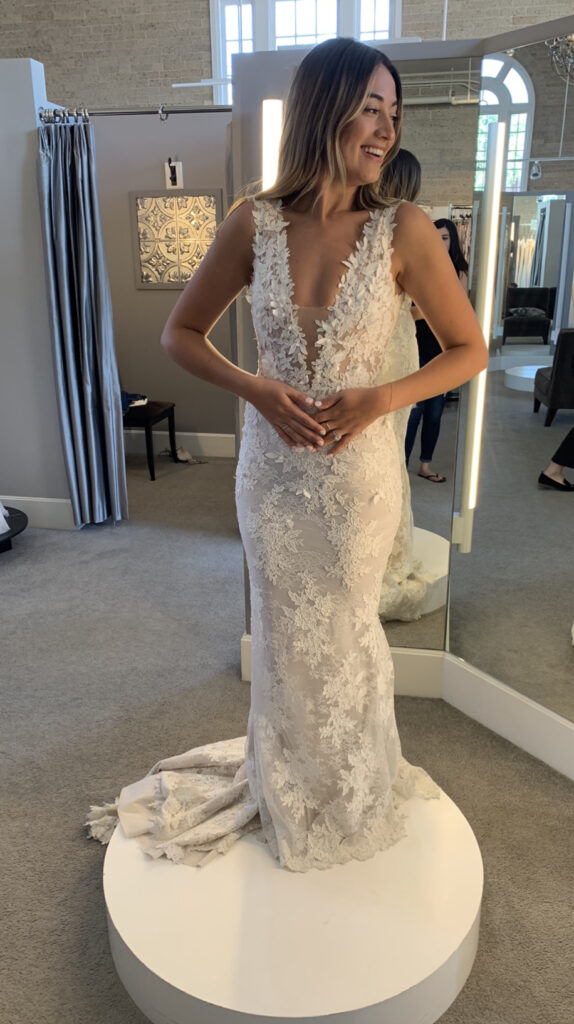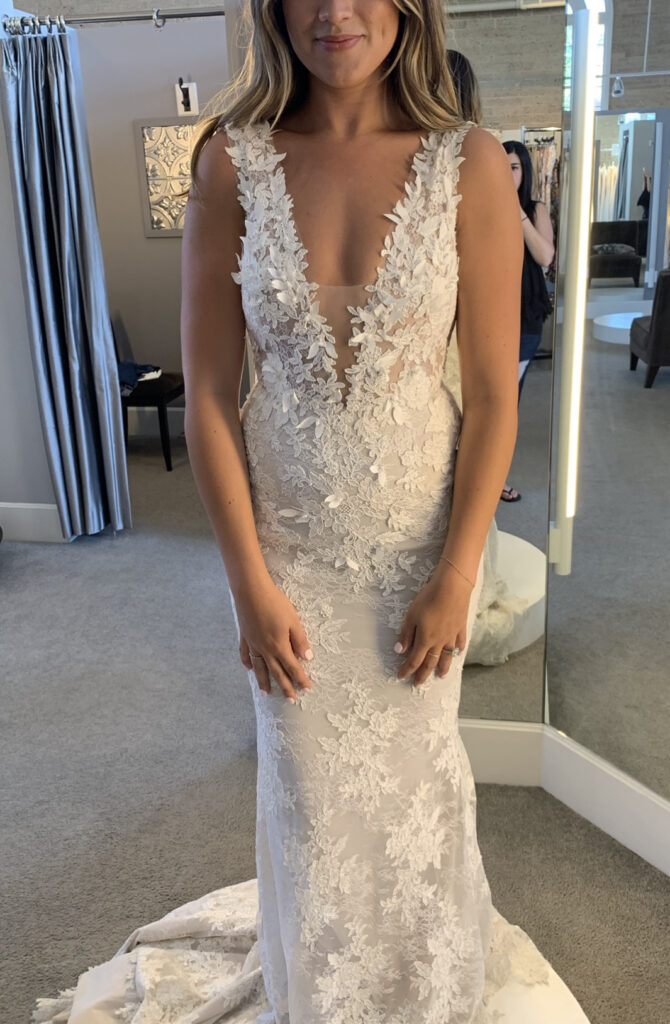 I never would have known to ask for these alterations but thankfully my stylist at
d'Anelli
, Leanne, heard out all of my concerns and walked me right over to their tailor. I was immediately assured that my vision was totally achievable and I was sold on the dress on the spot!
See below for some progress pictures of my dress – the designer is
Eddy K
: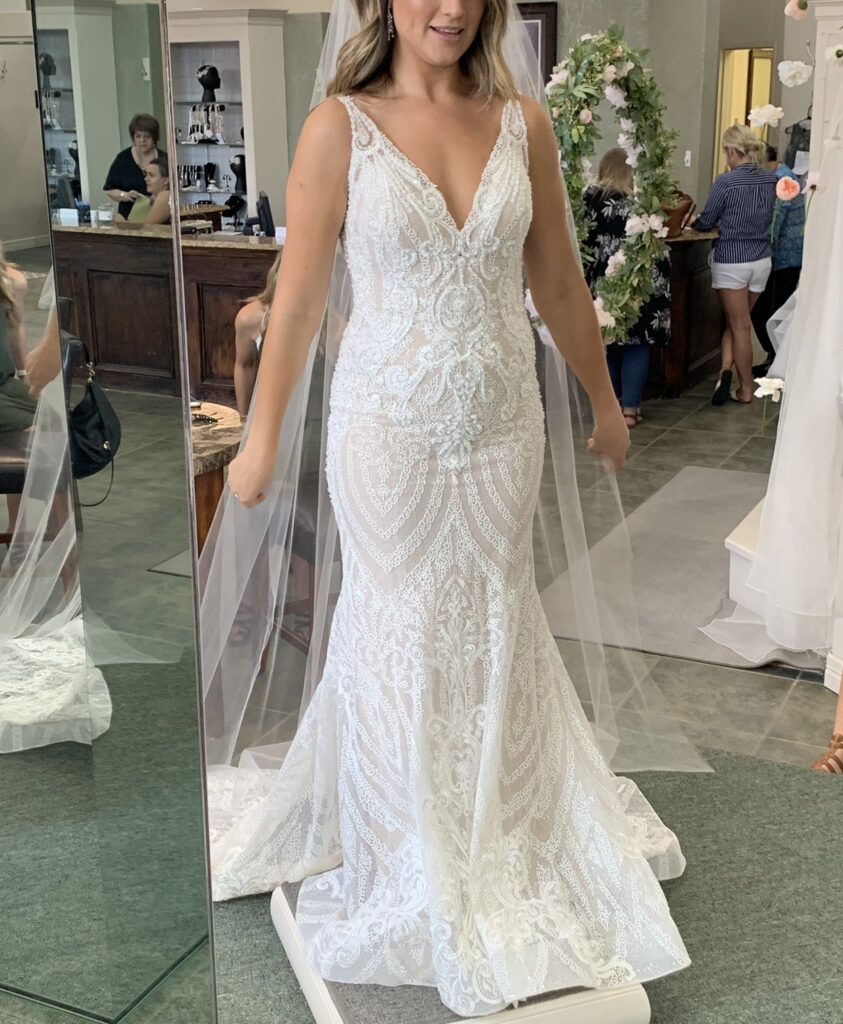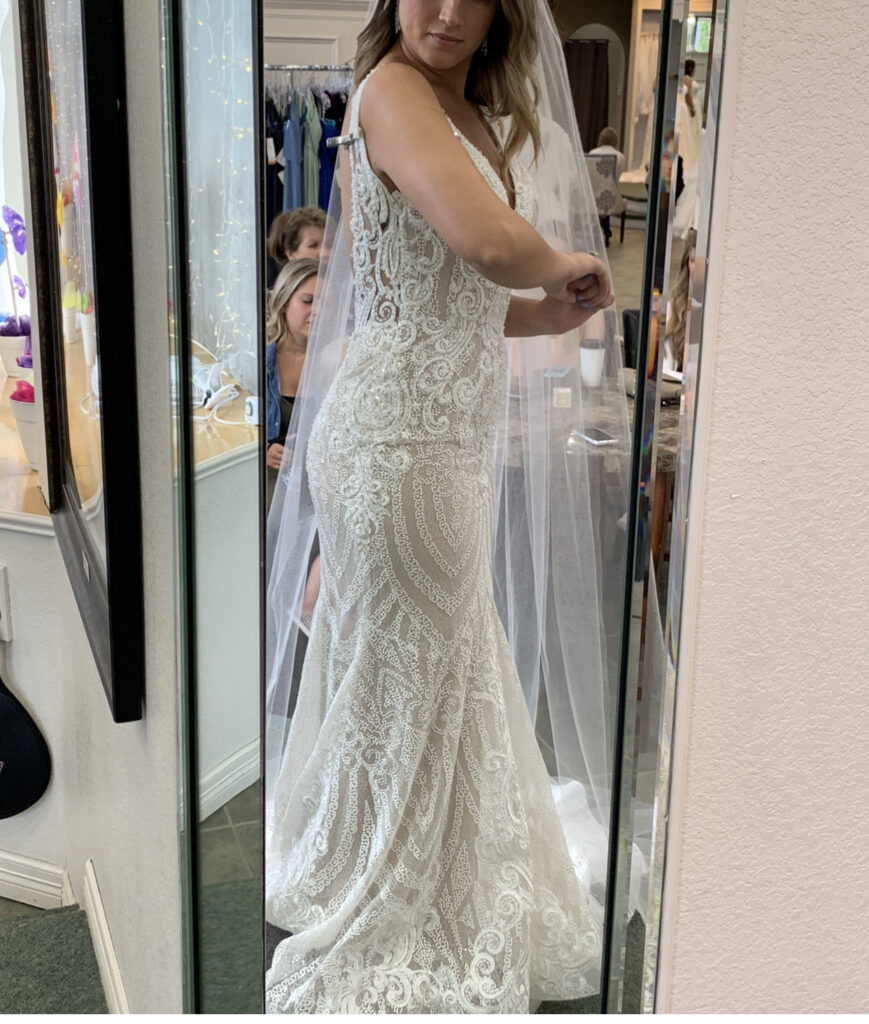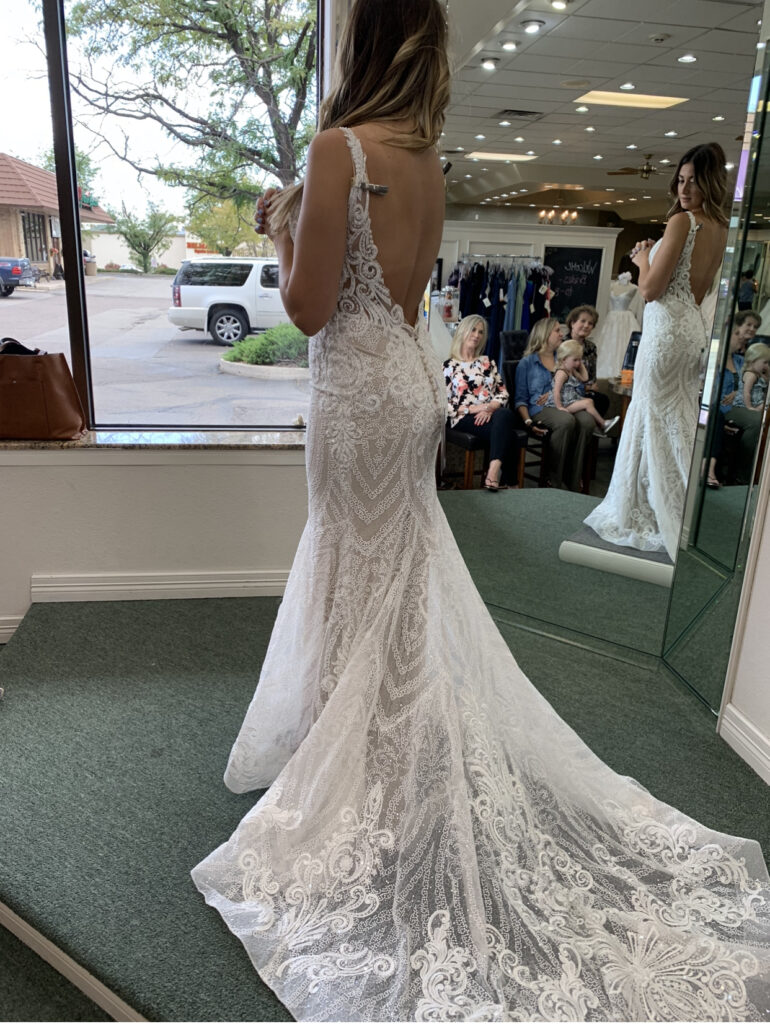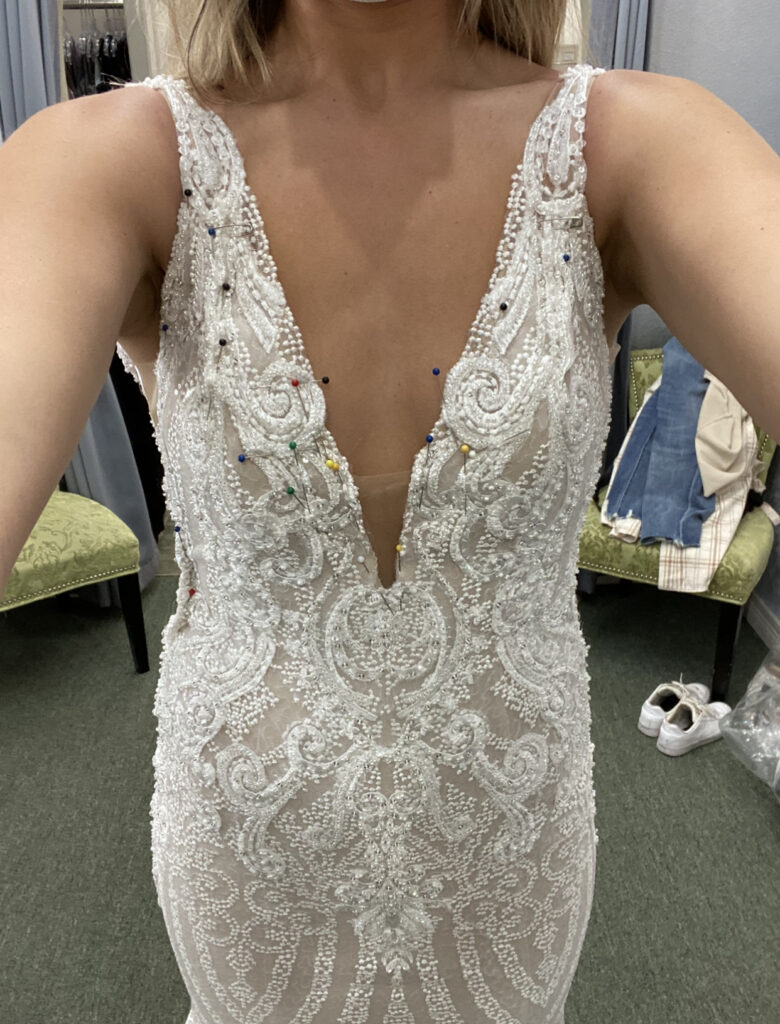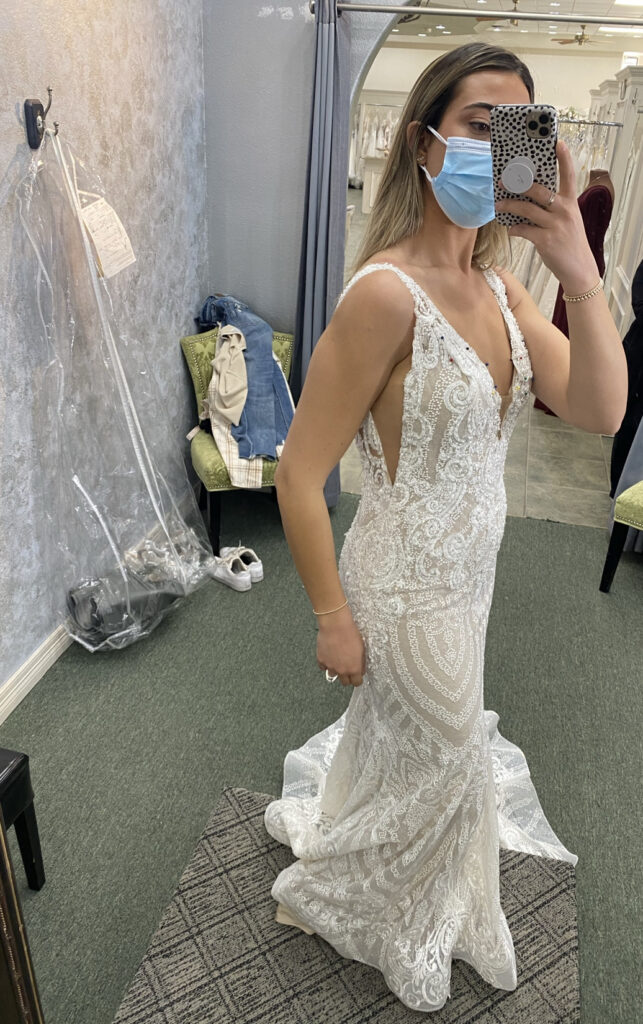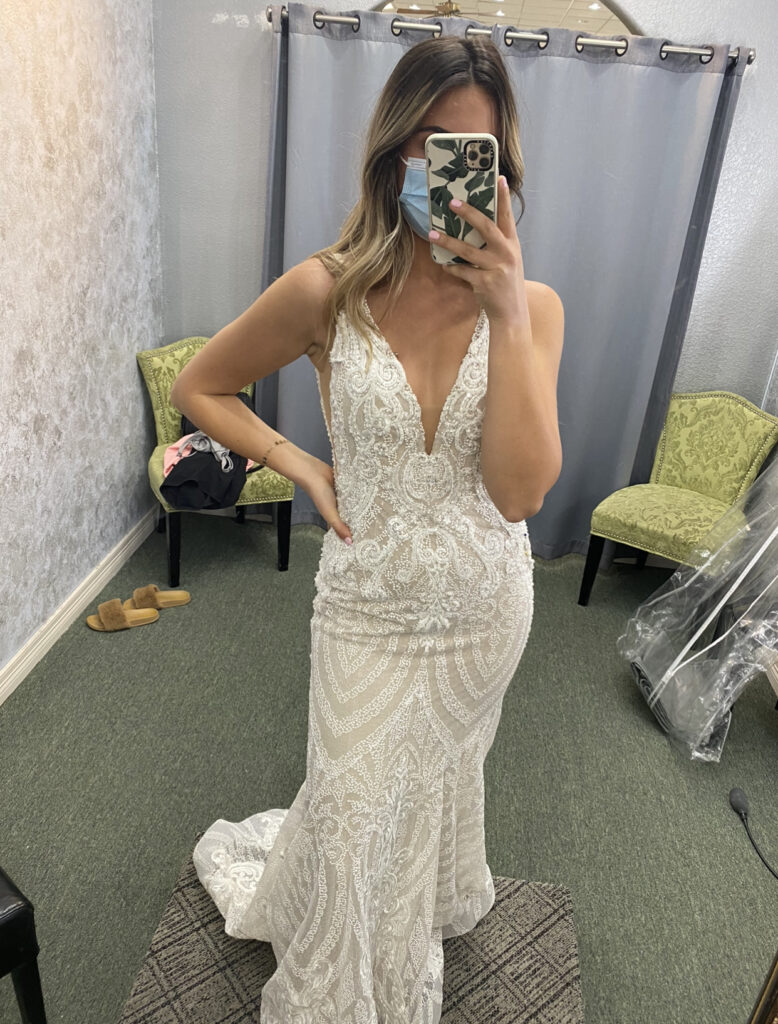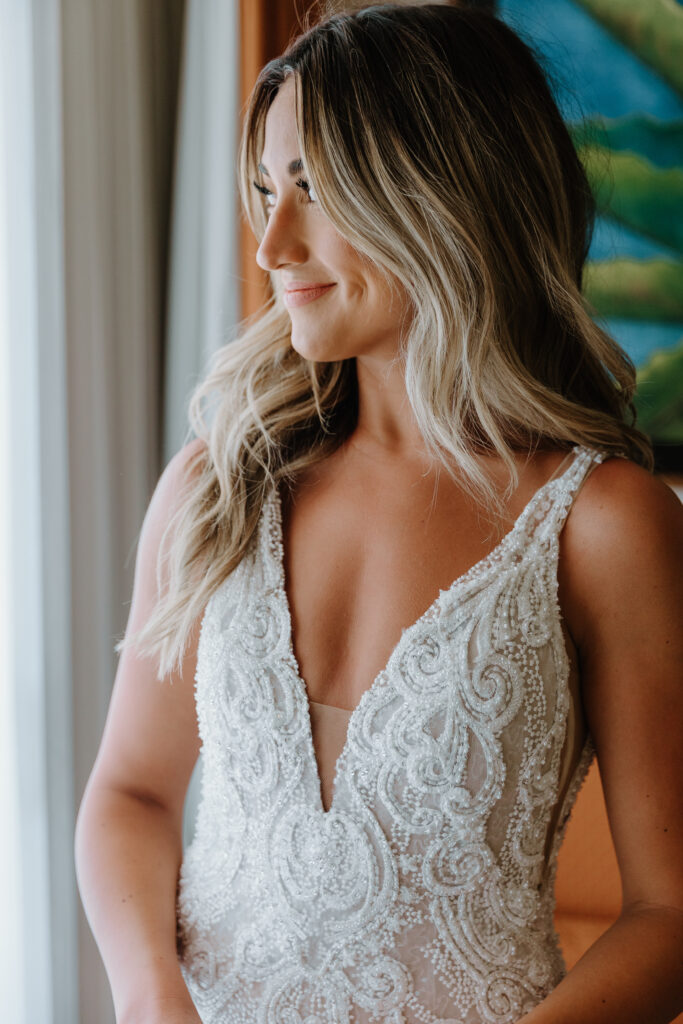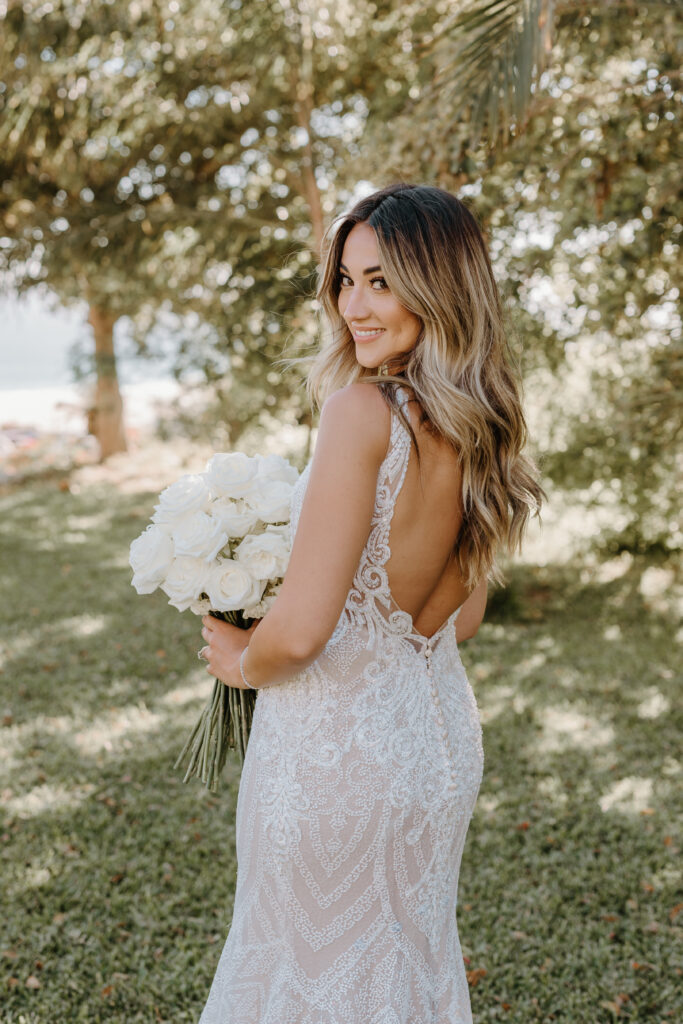 I am so so happy with how my dress turned out! It was everything I hoped it would be and I'm so happy that I didn't settle for less than my vision. Here are my tips for you to find your dream dress, too!
Research! The only reason I found d'Anelli was by researching designers I loved and then finding retailers nearby that carried them.
Know your designers. When you go to bridal boutiques, even if they don't carry a designer you love the chances are they will know who you are talking about and be able to point you in the direction of a similar designer they do carry.
Visit every boutique, sometimes you may have to go twice! It's so easy to get impatient but don't be afraid to try every place and go back if you think there were some options you didn't see that could have potential.
Try on multiple styles! For me, what I wanted ended up being exactly what I liked, but there are so many stories of brides that want a mermaid style dress leaving with a ball gown. Give everything a shot!
Articulate exactly what you're looking for and bring pictures. Just like when you get your hair done, if you can explain exactly what you're looking for with no confusion and show pictures that display what you like/don't like, that will help your stylist a ton!
That's the wedding dress round up! I hope this was helpful and you all find the dress of your dreams like I did! Until next time.
xx,