Shopping for your wedding dress is one of the most special and fun parts of wedding planning. And seeing yourself in a wedding gown for the first time, even if it's not the one, is a super surreal. I was one of those brides who was super picky and particular and the kind that I'm sure bridal boutiques hate (lol). Luckily for me, d'Anelli bridal had exactly what I was looking for and I had the best experience while shopping there.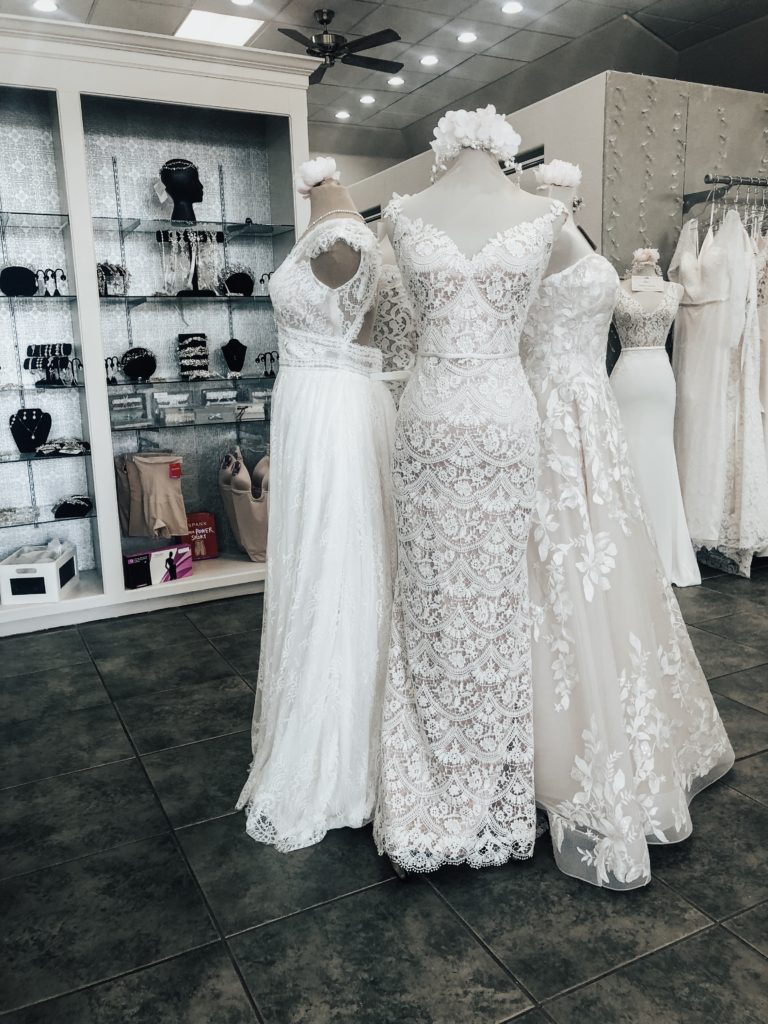 Research
Before I went into d'Anelli I did a ton of research on which designers they carried by checking out their website. This is something I highly recommend doing! If you are someone who knows what you want, learn your designers so that when you go in you can tell your stylist who you like. That will help them understand your vibe, and they can most likely point you in the direction of even more designers you'd like. After looking at d'Anelli's site, I got excited. For the first time in Denver I was seeing designers I had never heard of or seen anywhere else, and not only that, but they were designers that matched what I was looking for!

Guests
After getting all excited about d'Anelli's designers and booking my appointment, I started thinking about who I wanted to come with me. If you've never been dress shopping before, something that really surprised me was how limited you are with the number of guests you get to bring. Most shops allow you about four people max, some have as little as two places for your guests. Now, I have seen "Say Yes to the Dress" so I get the whole "too many cooks in the kitchen" thing, but I was so excited about d'Anelli and had such a good feeling that I really wanted everyone to be there, and so I accidentally ended up inviting all eight of my best girls to come. I hesitantly called d'Anelli to let them know, and they were SO nice and accommodating. Their store is big, so while smaller numbers are still ideal, they can make it work if you are ready to lock a dress down and want your whole crew there with ya. When we got there they even had extra chairs setup so that we were ready to go.


Shopping
A lot of times when you walk into a boutique for your appointment, the stylist will walk around the store with you, mentioning all the different designers, what they're famous for, the price range… blah blah blah. Sometimes that can be super helpful and I totally understand it, but other times it can be kind of awkward to look at dresses and have someone breathing down your back waiting to hear if you like it or not. At d'Anelli, something I loved is that they give you a baggie full of clips and give you free reign to walk around the store, check out the dresses and "clip" dresses you want to try on. This was so fun for my friends and I! I got to look for what I liked and all my friends were looking too. If they found something they thought I might like, they could clip it. So fun, simple, genius, and not awkward at all!

Champs
Another luxury you might think is a given when wedding dress shopping is champagne, but surprisingly a lot bridal boutiques do not offer it, or even let you bring your own. Of all the times I went dress shopping, d'Anelli was the only place to offer my bridal party and I a glass of champagne. Such a fun & unique touch!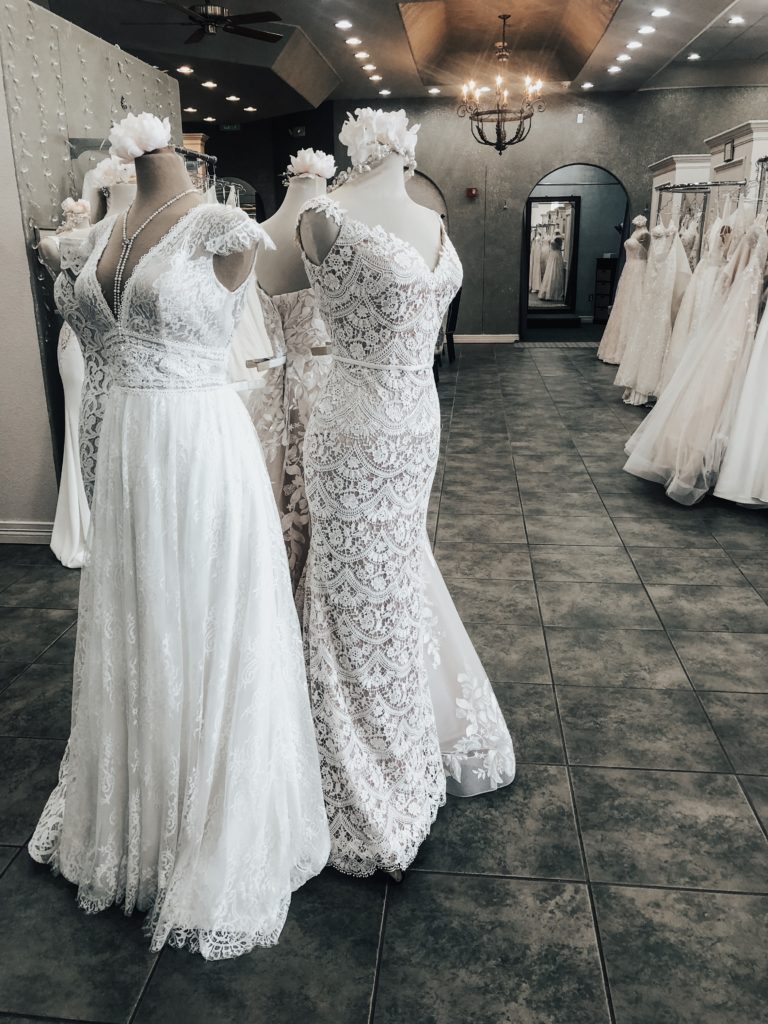 Stylist
Having a good stylist while you're shopping for your wedding dress can make or break your experience. At d'Anelli I worked with Leanne, and couldn't have had a better time. Helping out a group of our size, and especially an outspoken one, I can only imagine would be super intimidating, but Leanne didn't miss a beat. She made me feel so special and always wanted to know what I thought of the dresses I was in, because ultimately that's the opinion that mattered most. When I finally found what I thought was the one but needed a few tweaks, Leanne took me straight over to the woman who handles alterations. She explained what I was wanting and they were able to give me total confidence that I would be able to achieve my vision. She knew her stuff, knew the store, and ultimately helped me find & alter my dream dress!

Bridesmaids
d'Anelli isn't only for brides. If you already have your dream dress and are looking for your bridesmaids dresses, look no further! d'Anelli has every color, shape, and style you could want! Get your girls together for a fun day of shopping where they get to find the dresses that make them look like a million bucks, too!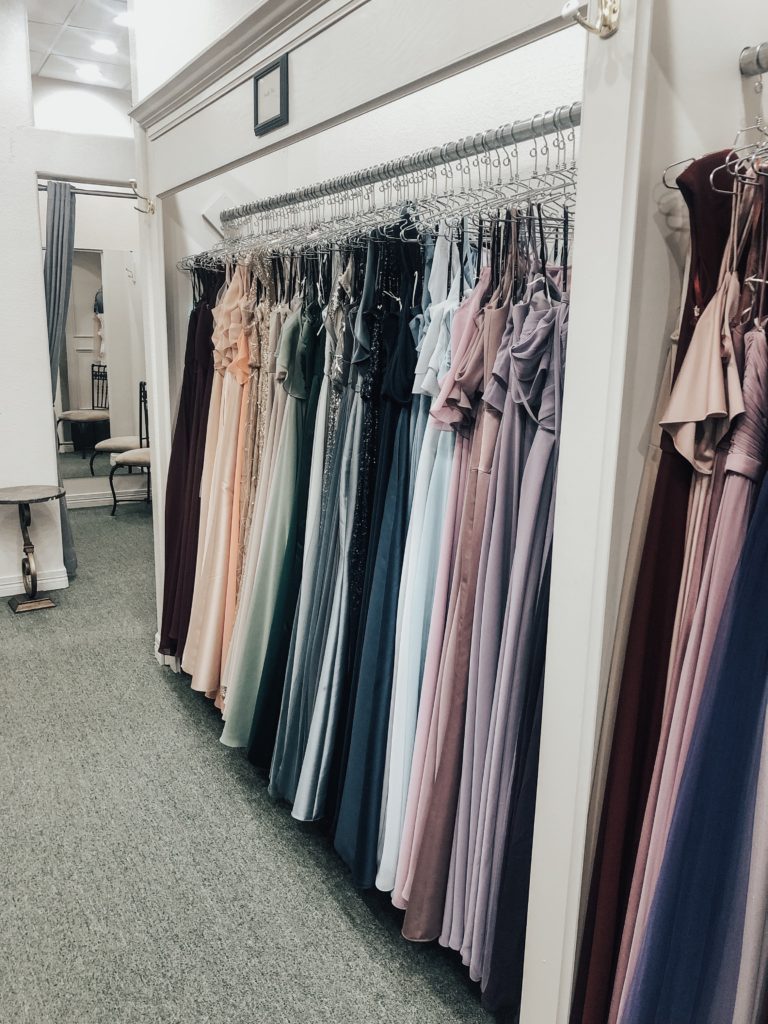 As you can probably tell, I love this place. I had the best experience there and the experience that I think every bride deserves. If you haven't had any luck finding your dress or even if you're just getting started, I highly recommended stopping by d'Anellli. They have the most unique dresses, the most helpful staff, and the most gorgeous store.
Until next time!
xx,