Who do I think I am, a hair junkie now? I'm not sure, but I have been loving playing around with my hair styling routine lately, which is why when my trusty CHI caputted on me on Wednesday night, I didn't fret too hard at the idea of buying a new one. The first place I went was Ulta. I thought about just repurchasing the CHI but that seemed so boring and it was 100 dollars for the same of what I was used to (I didn't absolutely love my CHI to begin with, but it did the job and that sucker lasted 5 years). I ended up buying a Hot Tools flat iron, and while I love that brand, I did not love that flat iron. It was super light weight and pulled at my hair a little.. plus the power and heat adjustment buttons were on the outside so when I would try to curl my hair I would click it off! … not a fan.  I took that back, and on Thursday I ended up getting out of a job interview early and decided to hit up the Nordstrom Anniversary sale for some Zella leggings (they were sold out ?), but ended up walking out with something 10X better: the Drybar Tressed to Impress collection.
This collection runs you 154 dollars during the anniversary sale but is a 225 dollar value (the anniversary sale ends August 6th so if you're interested get in there quick). This is obviously a steep price but in my eyes I was going to pay 100 dollars for the CHI and with this collection I was getting a flat iron and a bunch of styling products for only 154… plus this Drybar flat iron on its own is 150 dollars so there was zero buyers remorse on my end! 
Ok let's get into it because everything about this flat iron is amazing. For me, my flat iron is equally as important as my cell phone or a companion if I were trapped on a deserted island. I use it to straighten my hair, curl my hair, beachy-wave my hair.. hell sometimes I'll even use it on a wrinkle in a shirt if it's in an accessible place. I use my flat iron every single day so it's pretty important to me that I love it.
First of all, its bright yellow (my favorite color) and adorable, not the most important thing but still something I love. Its fairly light but it also has some weight to it which I personally like. It is plated with titanium which is a naturally occurring metal and the reason the flat iron gets hot so quickly. I love this iron because not only can I adjust the heat, but there is also a "Memory" button. The way it works is if you select your desired heat and then hold the memory button for 3 seconds, that heat will be stored so that in the future you can just click the memory button and it will start heating up to your desired temperature instead of having to click through a bunch of times. My hair can handle a lot of heat so I set mine to 420 degrees, but the max is 450 degrees. Also, the buttons are on the inside of the flat iron so I'm not clicking them and changing everything while I'm trying to do my hair. The plates are 1 inch wide and seal the cuticle as you straighten/curl which results in less frizz and more shine. I also really love this iron because the edges are rounded so I can curl my hair just as easily as I can straighten it and it doesn't pull or tug on my hair what so ever, just glides right through! If you are in the market for a new iron this one seriously checks everything I could ever want!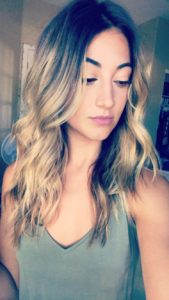 As for the other stuff in the collection, I'll go over that now! The first thing you get that I was the least excited about were the "Hold Me" hair clips and let me just say that I am a moron for not being excited about them because they are my second favorite item in the collection. I always just use a pony to section my hair because its thick and clips don't usually work, but that means that my pony often gets tangled and pulls at my hair when I'm letting sections down. These clips changed that game for me! They are so strong and can easily hold my mane in place without ripping, pulling, or tugging when I'm taking them out. I seriously love them!
You also get the Chaser Shine Cream which I've been working through my hair after I get out of the shower to help with frizz and dryness. It smells really good and I have really been liking it! Another thing I love is the Triple Sec 3-in-1 Texturizer. In comparison with the Ouai one I think this one might get the job done even better although I will say that I like the smell of the Ouai one a little bit better. The only thing I am not obsessed with in this collection is the Sparkling Soda Shine Mist because I haven't seen it make a huge difference in my hair, however I will say that I usually like a more messy, tousled look so anything super perfect and shiny isn't really my style (more texturizing spray for this girl, plz!)
All in all this collection is amazing and made me totally fall in love with the Drybar brand. I would 10/10 recommend! If you would like something in this collection without buying the whole thing, all the products are available individually through this link at Nordstrom or this one at the Drybar site. If you want the whole thing get it here for $154 and remember you only have until August 6th to get that deal!
If you end up buying anything I talked about leave me a comment letting me know what you think! I would love to hear from you guys. As always thank you so much for reading and until next time!
xx,